They say it's not a matter of "if" but "when" a race car driver has a crash.  In a game of calculated risk, high speed, and mechanical chunks of metal in a whirl of momentous velocity, one has to expect disarray to occur at some point in time.  Being on the edge is certainly an exhilarating experience, but when things go wrong they go wrong very quickly.
I've seen a lot of crashes in my relatively short history of driving and working in motorsports.  It's a painful thing to watch, whether it's a professional race or a club-level event.  Crushed cars may draw a spectacle, but it also draws someone's bank account.  The racing community is largely a tightly woven network of people where, if you stay involved long enough, it's hard for others not to know who you are.  Likewise, when things go wrong it doesn't take long for the news to travel.  In a lot of instances, racers come together in support of each other during the challenging times.  The story I'm about to share with you is another example of how helpful the racing community can be, and how imperative car preparation is in this sport.
It was the last race of the season, excluding the 25-hour and 6-hour races at Thunderhill in the NASA Northern California region, and was scheduled to take place at Infineon Raceway in Sonoma.  I had just moved to the area four months prior and since then had only raced a few events. In comparison to Arizona, my connections in NorCal were merely in their early stages of development.  Luckily my professional work in motorsports this past season, including Grand-AM and World Challenge, essentially brought everything full-circle and had allowed me to reconnect with drivers and crew I've met a long the way.
Despite being new to the area I was fortunate to have pitted with a great group of Spec Miata drivers, including the NASA NorCal Spec Miata Championship Series Director—Dean Thomas, his wife Laura, as well as Jaime Florence and Aaron Braverman.  They were some of the first Spec Miata drivers I had the pleasure of meeting, aside from professional driver Ken Dobson—who not only has extensive experience with Spec Miata, but had become instrumental in my progress this past year.
With the recent rains in Sonoma, first session out was a grab-bag of grip, slip, and eminent slide.  Following sessions were qualifying for Spec Miata, then Performance Touring (PT) races.  With the Spec races moved to Sunday, I was more or less focused on sorting the car (and the driver) per the track conditions, with plans to run the PT race for extra seat time.
I should have taken a hint from my luck that weekend when my steering wheel came off on the exit of Turn 6 during my PT practice session.  Fortunately, my trajectory was more or less straight and I was able to resolve the issue without consequence.  Strangely enough, I had briskly tugged the wheel before I had driven away from grid—a habit I've long since developed after the first time a wheel came off at Hallett entering the infamous turn called "The Bitch." Indeed it was.  Needless to say I called the session early.  It's amazing how disabled a driver becomes for that split second when all you have to control the car are the gas and brake pedals—directional inputs are rendered null and void!
With my pre-race sessions more or less wasted for the day, all I had left was the race to focus on.  There were only a few comparable SM cars running in PT, but I figured it would be a useful warm-up for Sunday.  My mother brought me drinks and snacks as always then found a place to observe on the hill at Turn 9 overlooking most of the track.  Next to her was Grand-Am driver Andrew Novich, who has been kind enough to join me at the track and spot my sessions via radio.
The race was off to a decent start.  I made a few initial passes all while sorting myself in the field. I soon spotted a familiar white Miata and began to slowly close my distance after a few laps.  When racing in a mixed class environment I'm often negotiating space with higher powered cars.  In my days driving on Arizona tracks I had grown accustom to traffic with high differentials in speed, so interpreting their approach became something more or less commonplace.
On the exit of Turn 6 I had spotted a small cluster of muscle cars, and it was clear that they had their own race in full effect.  Referencing their position from the hill I anticipated they would greet me somewhere at Turn 7 or shortly thereafter.  My timing was about right and soon enough a yellow Camaro was looming large with his opponent a few car lengths back in my rear-view mirror.  A part of my instinct had hinted that something may be coming up, leaving me two choices—do I give up everything exiting Turn 7 because of fast traffic approaching, or hold my line and leave responsibility for the other driver to complete a clean pass?  At this rate I had already entered the beginnings of what is known as the "esses", or Turns 8 and 8a.  Anyone familiar with Infineon also knows this is a place where little mistakes can cause big problems.  This snake-like section of the track has very unforgiving characteristics.  Incorrect driver inputs or unfavorable circumstances that imbalance the car can add up here.
The decision to hold my line was already made as I touched the first curb at Turn 8.  I saw the Camaro disappear from view where he clearly went to pass on the outside.  Thinking for a moment that he had slowed and fell in-line with me, my car was struck with a sizable force that instantly turned me around 180-degrees.  My brakes did nothing to slow my speed and I was simply along for the ride.  Sliding along side the tire wall I was thinking that I would eventually slow down and stop in the grass. That wasn't to be.  As my car skimmed the tire wall I began to gain air turning upside down and nearly reaching the other side of the wall.  It was at this time that my car was launched into the air backwards, with the tire wall acting more like a trampoline and less like a shock absorber.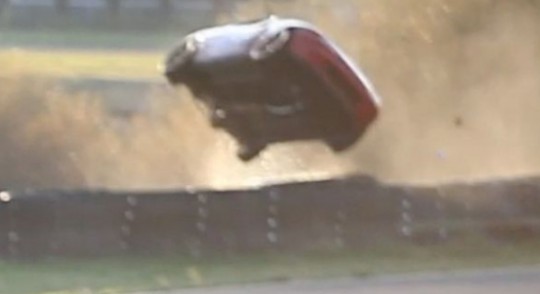 Word spread fast across the track.  Apparently, you can't pull a stunt like that and get away with only a few people knowing about it.  Turns out quite a few spectators witnessed the crash.  Luckily, in this unlucky situation, a local photographer and video-hobbyist happened to be recording the esses during the race and captured the last segment of my crash on video.  Watching after the fact definitely brought the realization of how rough the tumble was for good ol "Clifford" the Miata and his driver.  Despite the loss of my car, I was in high spirits, and reviewed the crash video right away.  "Whoa!!!  That is f***ing awesome!!  Let me see it again!" Was all I could say.  Since I was able to walk away to tell the tale, I think I can safely say that it was indeed a pretty cool crash.  4-thousand views on YouTube in less than a week? Apparently Miata's are cool cars… but only when they fly.
Once the adrenaline began to wear off, I started experiencing all sorts of emotions at once.  Reviewing Clifford's injuries spelled the level of the impact and made me wonder how I got away so clean.  It was almost enough to make me cry, which I never like to do because it's kind of a girl thing.  Girl racers don't cry, right?  Were tough as acrylic nails!  Well I did, but only for a second, so that doesn't count.
It wasn't long before I saw an unfamiliar man enter our pit area.  He stopped next to me and scanned all of our faces, "I'm looking for the number-34 Miata driver.  Is he here?"
I looked up at him and replied, "I'm right here."
If he wasn't clearly shaken enough, I think my reply just made the situation more complicated—I was the girl who flew, not the guy who flew.  It was then he asked if I was okay, and apologized for the situation he had caused.  In his explanations he noted that he was racing for a championship, and that his driving record previous to the incident had been clean for 7-years.  Of course, when someone tells you this shortly after performing a very specialized FAA airspace violation, it was hard to be convinced.  I didn't have much to say, but I was very much willing to listen.  But, each time I looked at the car—the car I spent two years working with—I had even less to say.  What I did know was this crash would put me out of the game for quite some time, placing an abrupt halt to my goals and ambitions to progress in my racing.  As the driver hunted for words to express his apology, all I could draw upon were the impressions made by my driver coaches, as well as my colleagues at the Jim Russell School—ways of the wise if you will, and a clear realization that I have been a very attentive driver.
In a calm tone of voice, I reminded the driver that racing is clearly a dangerous sport and we come into this game knowing there are inherit risks.  "In the future you need to carefully consider how you make decisions, and which decisions you make, because obviously they can have very high prices," I said.  "To be a good race car driver requires a careful blend of aggression and patience, and you lacked one of those today."
The driver nodded, and proceeded to offer some assistance to correct the damage.  Graciously accepting to it, our conversation slowly came to a close.  As difficult as the conversation was, it was amenable that the Camaro driver came to my pit area to find me, and even more so with his offer to help resolve what had happened. Turning to a rattled group of drivers, we began to sort out what just took place and what I will have to do next.  Clifford was a great learning tool, and he did his job.  It was clear that he also protected me from serious injury.  He was a great little car indeed.  I will never forget the car nor the experiences I've had driving it.
While some people would have started a fist fight if they were in the situation like mine, I saw no need to aggravate an already intensified circumstance.  I've learned very early from some well-known and respected racers that being professional regardless of the level of racing is not only paramount for your reputation but raises the bar in terms of off-track driver etiquette.  It's no secret that I want to race in a professional series in the future, so I find it no less important to be as professional in a club race as I would be driving in Grand-Am.
Related Articles
Share
About Author