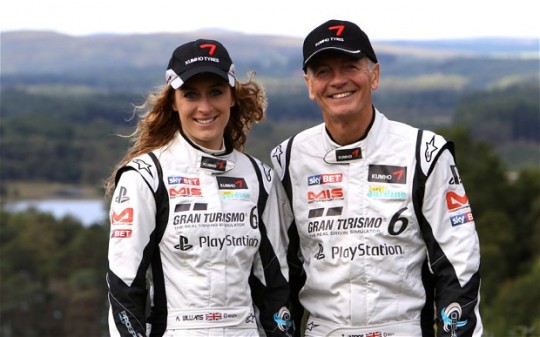 Amy Williams will swap her skeleton sled for the co-driver's seat of a Mitsubishi Lancer when she makes her World Rally Championship debut this weeked at Rally GB
November 14, 2013
The 31-year-old, self-confessed adrenalin junkie took gold at the Vancouver Winter Olympics of 2010 in skeleton. Wales Rally GB where she will co-drive for British television presenter Tony Jardine.
Williams took part in her first rally in September, completing 4 national rallies in 10 weeks in order to secure the international lisence needed to compete on a world level. She received expert coaching from Daniel Barrit, co-driver to the successful WRC 2 driver, Elfyn Evans.
"I can't pretend I'm not nervous, I was comfortable until I sat down with Daniel in front of a mountain of paperwork, maps and rules, and then I started to panic! This is a whole new game on an entirely different level" said Williams. "Right now I am feeling a lot of pressure, although, it's a very different kind from the skeleton – there I was in my comfort zone and people were expecting results! Here, even though the other rallies have gone well so far, the World Rally Championship will be a totally different and much tougher challenge."
Tony Jardine, the television sports presenter, and rally GB veteran, has been impressed by the progress "Amy has done spectacularly well to get this far," he said. "With the four rallies completed in a variety of conditions, we have developed a partnership through good chemistry. However, we know it is still going to be pretty tough" said Jardine.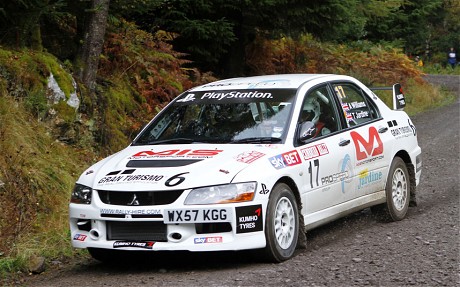 The pair will reach speeds in excess of 100mph on narrow forest tracks in their Mitsubishi Evo, a prospect that most people would find more than a little intimidating. Most people, however, haven't won an Olympic gold medal for hurling themselves down a bobsleigh run on a tea tray.
"Skeleton was my career for 10 years," says Williams, "and that's toughened me up. The speed of rallying doesn't phase me and I haven't felt scared at any point."
Williams became the first British individual Winter Olympic gold medal winner for 30 years when she won the Women's Skeleton at the 2010 games in Vancouver. Having retired from the sport last year, she's says "much of what I did in skeleton is transferrable to rallying, such as thinking a long way ahead on a fast track. Both skeleton and rallying are all about getting from one point to another as quickly as possible, too."
Amy was only introduced to the sport of performance rally earlier this year. "I was filming for a television show called A League of Their Own," she says, "and one of the challenges was co-driving. I really enjoyed it. Tony saw the show and it all went from there."
The duo will run with the world's best rally drivers, including new World Champion Sébastien Ogier and 2007 Wales Rally GB winner Mikko Hirvonen. Robert Kubica, will also make his debut in a fully-spec Citroen DS3 a switch from his WRC2 which he already secured that championship.
Related Articles
Share
About Author