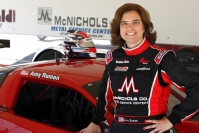 Despite some high hopes, for the high banks of Dayton, it was over before she really got started… Dropping to finish the season 4th in  Trans-Am Standings but wins the Publicity award
Daytona Beach, Fla.– Ruman Racing played host to several McNichols Company representatives as well as many family and friends for the season-finale Trans Am event held at Daytona International Speedway over the weekend. Driver Amy Ruman was hoping to deliver a podium finish in front of the many supporters on hand for the race as she made her debut at the "World Center of Racing."
"Being here to race at Daytona for the first time was very cool, and the banking of the oval was just awesome," said Ruman. "I've raced at similar tracks to this one, but there's just something very special about racing at Daytona."
The event marked Ruman's first start at the famous Daytona 'roval' circuit and she quickly got up to speed in the No. 23 McNichols Co. Corvette through Thursday's test day and Friday's practice sessions. After putting the No. 23 machine on the third row of the 40-car combined class grid in qualifying with a fast time of 1:47.098-seconds, Ruman looked to move forward as the team targeted a podium finish.
Unfortunately, Ruman didn't even get a full lap at speed in the books after she was hit on the opening lap of the NorthStar Battery CTEK Chargers Trans Am 100, ending her day early. The No. 23 McNichols machine was hit from behind when the No. 86 of John Baucom made an ambitious first-lap move into the high-speed bus stop corner. The contact from behind sent Ruman spinning briefly, but three-time Trans Am race winner was able to recover and continue. Unfortunately, the damage was already done, as the hard hit caused a driveline issue, forcing the Ruman Racing crew to park the McNichols Corvette for the day.
"It is really frustrating to be taken out like that on the very first lap of the race," said a disappointed Ruman. "It's not the outcome that I wanted, especially because so many people made the effort to be here and support us this weekend."
"A huge thank you to McNichols and to all of my family and friends who came out to support us for this race—it was great to have everyone here.  You just want to do have a really great race especially when fans are here to watch,  and when something like this takes you out, it is really a frustrating way to end the day and the season," said Ruman.
The result was all the more disappointing as members of team sponsor McNichols Company were on hand for the race.
"It's just too bad that the guy would take a chance like that so early in the race. But that's just racing, it's not called 'winning!'" mused Gene McNichols, McNichols Co.'s Chairman and CEO. "We were disappointed because Amy had so many fans here, including her grandmother, who just turned 90! Still, it was good to be here and support Amy and the team."
As the 2013 season came to a close, Ruman finished fourth overall in the Trans Am championship standings. Ruman, who scored her breakthrough Trans Am victory in 2011 and followed that up with two more wins in 2012, took home two podiums (Sebring and Brainerd) and four top-five finishes throughout the 2013 season.
At the Trans Am Championship banquet last night, unexpectedly, the Trans Am Series awarded Ruman with the Trans Am Excellence in Publicity Award for outstanding efforts in promoting racing and the Series throughout the country.  The Trans Am staff chose Ruman for the award, as she is very active in her marketing efforts to promote the series, highlight the series through social media and interviews, and continues to keep the Trans Am brand in the public eye.
Ruman Racing Sponsors are: McNICHOLS Nationwide Service Centers is the nation's largest distributor of Perforated and Expanded Metals; Wire Mesh; Bar, Plank, and Safety Gratings; Stair Treads; Matting; and more. Products are carried in all styles and materials–stocked for 24 hour shipment. "Inspired to Serve"™ 800.237.3820 mcnichols.com. Goodyear Tire & Rubber is a Ruman Racing sponsor as well as the Series sponsor.
For quick news and updates during race weekends, please follow Ruman Racing and the Trans-Am Series on Twitter @rumanracing and @gotransam. Be sure to "Like" our official pages on Facebook: Ruman Racing, Amy Ruman (Official Fan Page), McNichols Company, and Go Trans Am.
Race Info/Scoring/Results: www.gotransam.com
Live Timing: www.gotransam.com/live-timing-and-scoring/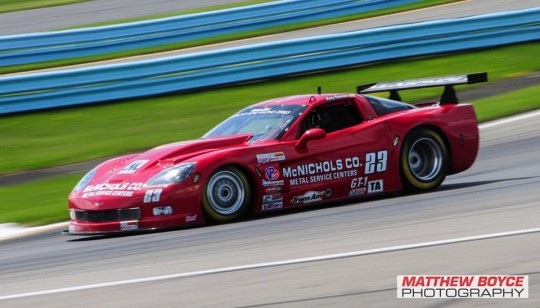 Ruman Racing, Inc., is based in Munroe Falls, Ohio.
Related Articles
Share
About Author