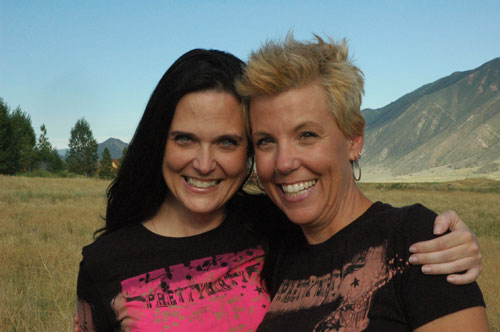 Happy New Year's everyone!   It's Emme Hall from Team Courage Gazelles here.  If you are new to Female Racing News, you may need a little background on me.  My team mate, Michele Martineau and I plan to run the Rallye Aicha des Gazelles, a 9 day all female rally through the harsh deserts of Morocco using only traditional navigation.  That's right.  No GPS, no cell phones, no chase crews.  Our goal is to raise enough money to get us there, plus $15,000 for breast cancer research.
Why breast cancer?  Because Michele is a previvor.  Having been diagnosed with a 40% chance of developing cancer, Michele elected to have a double mastectomy.  And I gotta tell you, if I had to decide between MRIs every 6 months, wondering if I had cancer, and a mastectomy, it wouldn't take me long to be on that gurney.
But therein lays the problem.  Although Michele has raced since her reconstruction, she is now facing complications.  She has developed a fairly rare condition called symmastia.   It's complicated, but the short story is that her pectoral muscle is detaching from her breastbone.  I hate typing that sentence.  It freaks me out to no end.  Her implants are under the muscle that has detached, which means her implants can move around.  They can even cross over from one side to another.
I know.
She will be undergoing painful surgery in the next few months to fix this problem, so we obviously will be postponing our Gazelle run until 2013.  Michele said she would support me if I got a new partner and went this year, but I can't imagine doing that.  They say there are no friends in racing, but I beg to differ.  I started this journey with Michele as my team mate and I'll end it with her as my team mate.  Our sponsor, Soulside Network, agrees and is sticking with us, and I'll still go out to CA for dune training the end of this month.  I may not be the smartest cookie in the jar, but I'm not turning down seat time!
We'll spend this year getting tight with manufacturers, working on media (we've had some bites from TV documentary people!), building our social network, and of course continuing to raise money for breast cancer research.  You can join us at www.teamcouragegazelles.com and follow us @couragegazelles, or friend us on Facebook at www.facebook.com/teamcouragegazelles.
If you or someone you know is fighting breast cancer, I urge you to look at Michele's network, Courage is my Strength.  She's been documenting her journey for the past 2 years, from diagnosis to reconstruction, to now, symmastia.  www.courageismystrength.com
And if you wanted to hear about RACING…my team Hall Ass Racing is thisclose to purchasing a 2 seater 1600cc VW powered desert racing machine.  It's not a done deal yet so I'm trying not to get too excited.  There is also some tentative chatter of me co-driving at the Mint 400 this year, which is awesome.   To keep up with me and all I've got going on (and it's a lot) check out www.hallassracing.com, follow me @HallAssRacing, and Like me at www.facebook.com/EmmeHall.   Also check out my car reviews on RoadflyTV.
Related Articles
Share
About Author