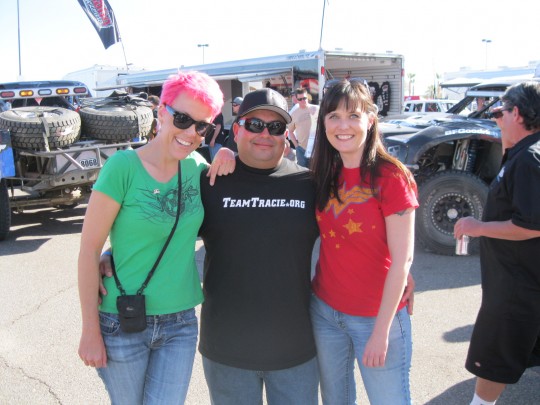 The world can be a crappy, crappy place y'all.  We got disease, homelessness, war, hunger…you name it and the human race has figured out a way to bring it on to this earth.  Some of us racers have the visibility to bring awareness to the world's problems.  Much like actors using their fame to lobby Congress for causes near to their hearts, quite a few racers out there use their sport to race money for causes that they care about.  My pals over at Desert Dingo are the official World Diabetes car, Shea Holbrook, racing in the 2012 Pirelli World Challenge, is racing to end Muscular Dystrophy, and  Pure Hobby Racing is working with KidWorks.
And my team,  Hall Ass Racing?  Yeah…we don't have anything like that.  Don't get me wrong, we race the Powder Puff Race for the Cure every October and usually collect around $2000 for Cedar Sinai Breast Cancer Research Center.  We just haven't committed to a cause.  It's something I've been thinking a lot about lately.  I've been getting more visibility lately with my car reviews for RoadflyTV, and this new 2 seater 1600 promises to be a rather quick car.  If I can pilot her to her full potential, I may get a decent amount of press in the next few years.
So a few weeks ago I found myself on the phone with a very successful off road racer who likes to keep her name out of the press  (What?  I don't understand this idea!).  I ran a few ideas by her, and she said something that struck me.  She said, "Whatever you choose, every single move you make has to go towards furthering that cause.  If you're racing for breast cancer, then raising money for breast cancer has to be your number one priority, and you're using racing to do that."
That stopped me dead in my tracks.  Is there any one thing that I am ready to eat, breathe, and sleep to raise awareness for?  I've led a pretty charmed life.  Nobody in my family is sick or has passed away early from any disease, I never really wanted for anything, and all my friends are healthy, if not wealthy, and wise.
Well, most of them.  In the past year or so I've become friends with a few people that could use my help, and I've started to think that maybe my cause is helping my friends.  I've paired up with Michele Martineau of Team Courage.   Team Courage races to inspire women facing challenges in life, specifically women facing breast cancer.   I will be racing with Team Courage stickers on our new car and she and I will compete in the Rallye Aicha des Gazelles in Morocco next year.  We've also got a few tricks up our proverbial sleeves but I don't want to talk too much about it yet.
But here's the thing:  I don't have breast cancer, nobody in family has breast cancer, in fact Michele has never had breast cancer.  She elected to have a double masectomy when she was told she had a 40% chance of being diagnosed with breast cancer.  She started Team Courage not only to inspire other women, but to inspire her self to stay strong through her elective surgery and the many complications she has faced.   So while we will be raising money for breast cancer, what we're really doing is encouraging women to remain courageous, throughout all facets of their lives.
In recent weeks another friend has needed my help.  I met Sammy Navarro over Twitter, and in person at tech for the Best in the Desert Parker 425 race.  He stared to tell me about his friend Tracie, who has colorectal cancer…and he started to tear up.  A big, manly racer guy, tearing up to a woman he just barely met.  His plan was to race the world famous Mint 400 under the team name Team Tracie.  All was going well until his car fell through.
Well…hell, I thought.  I have a car.  And at the time I didn't have a co-driver.  So I offered to share driving duties with Sammy at the Mint 400.  In fact, as I write this Sammy is tweeting me that I have resurrected Team Tracie.  I'm not sure that is true, but if it makes him feel better that I am helping him, then I am happy.
So my first race in the new 2 seater 1600 cc air cooled VW powered race car will be the Mint 400, racing with Team Courage Racing and Team Tracie stickers on the car.  Do I believe in these two causes?  Absolutely!  Am I the leader in either of these causes?  Absolutely not.  I'm merely helping my friends fufuill THEIR goals.  Because I care about them.  I want them to succeed.  And  in the future, when I figure out what I really want to do, maybe they'll be there for me.  No, scratch that.  In the future I KNOW they'll be there for me.
You can follow Emme on her social media accounts:
Twitter: @HallAssRacing
Related Articles
Share
About Author