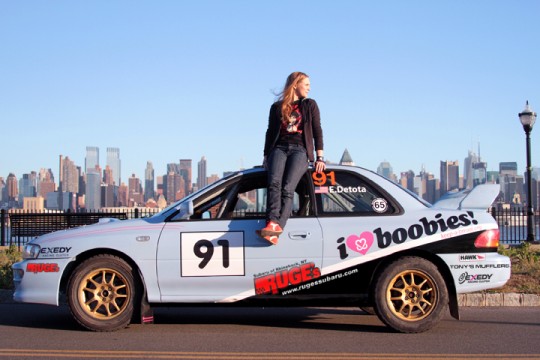 Ruge's Subaru will increase support of female rally teamRhinebeck, NY, March 6th, 2013: Erika Detota and her sponsors are ready to announce their plans for 2013 starting with a reveal of the upgrades to the Ruge's Rally car on March 22nd at the Ruge's Subaru dealership.
Since the end of last season, the team has been busy upgrading their race car. The project has been no small undertaking and will be unveiled to the public at Ruge's Subaru in Rhinebeck, NY on March 22 at 8pm. A few items from the reveal is a more powerful 2.5l RS motor with ExedyPerformance Clutch transferring the power have been installed. "This will be a big jump in power for me, hopefully about 60 horsepower," says Detota.
In addition to a fresh car, the team has gained Mary Warren, who has joined to co-drive the season. Mary has various experience in the sport from car prep, crew and most notably co-driving, the team is confident she will prove to be a great addition.This season will be Erika's first time focusing on racing in NASA Rally Sport events, which kicked off it's season March 2nd in South Carolina at Sandblast Rally. NASA will have two championships that the team will participate in, the Atlantic Rally Cup and if qualification is obtained the NASA National series.
The team's first event will be Empire State Performance Rally on April 20-21 in Rock Hill, NY, about 90 miles from New York City and races on all tarmac roads. The event is largely based on a special rally to Erika, as her home event she says: "We need to do well at ESPR, because we missed the first event and hope to catch up in points for the championship at my favorite rally." The additional rallies confirmed on the schedule are Rally West Virginia, July 27-28th and Black River Stages, September 14-15th.
Erika Detota is supported by Ruge's Subaru of Rhinebeck, NY, Tony's Mufflers, Keep a Breast Foundation, Exedy Racing Clutch, Hawk Performance and Rally Armor.
2013 unveiling event Facebook page https://www.facebook.com/events/348856588548003/
Ruge's Subaru Facebook page http://www.facebook.com/RugesSubaru
Erika Detota Facebook page https://www.facebook.com/RallyErika
For more information about Erika Detota go to www.RallyErika.com
Related Articles
Share
About Author