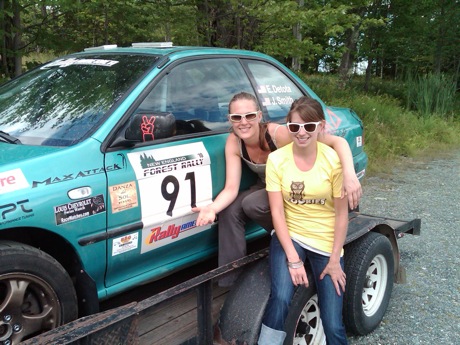 We are so excited rally car driver Erika Detota donated her time to influence the lives of her fans at the New England Forest Rally. The press stage prior to the race was set up at the rally for journalists and media related attendants to accompany a driver for a ride on an actual race stage for what is called "shakedown" or practice stage for the drivers to get re acquainted with the conditions. Erika decided that instead of taking press around that she would take Caitlin Riviere on her first rally ride experience, and educate her on how to lower her risk for breast cancer!
"I got to go for a ride in a female driven rally car and received some great information on Keep a Breast! What more could I ask for?" said Caitlin after her ride with Ms. Detota.
The rally went well for Erika, setting some impressive stage times and in a great position going into Day 2. A few miles into a very long rough stage Erika got a flat tire and lost a great deal of time getting to a safe place to change it. Her co-driver and coach Jason Smith is happy to report success at their first gravel event together. The team is competing in the United States Rally Championship this year where they are in first place in the 2-Wheel Drive class. Expect to see more of Erika – her car will be the one on the track with the KAB stickers racing September 6-7 at International Rally New York!
Related Articles
Share
About Author