In March of 2012 I will take a break from racing  the deserts of California, Nevada, and Mexico  with my race team,  Hall Ass Racing.  I've partnered with Michele Martineau of Team Courage Racing and together we are Team Courage Gazelles.  We will be tackling the Rallye Aicha des Gazelles in Morocco.
The Rallye Aicha des Gazelles is recognized around the globe as one of the most intense off road competitions…and all the participants are female.  We will spend 9 days in the Moroccan desert navigating to predefined check points using only a compass and maps from the 1950s.   No GPS, no phones, no chase crews.  This rallye is won by traveling the shortest distance between check points, not by making the fastest time.  Only 5 other U.S. women have attempted this grueling adventure since its organization in 1990, and Michele and I will be spending the next 5 months preparing for the adventure of our lives.
5 months.  Seems like a long time.  Except that in 5 months both Michele  and I expect our lives to be irreversibly changed.  We expect to have been pushed to our limits, physically and mentally.  We expect to have made lasting relationships with the people we'll meet on our journey to Morocco.  We expect to come out the other side stronger and more confident than we ever thought we could be.
In 2009, Michele discovered she had a 40% likelihood of developing breast cancer.  She decided to take her life into her own hands and voluntarily underwent preventative mastectomies and breast reconstruction, becoming what is known as a Previvor.   She confronted the breast cancer beast head on, and although she is not yet finished with her reconstruction, she has become determined to chase down her dreams and do her damnedest to make them a reality. While doing so, she strives to make a difference to other women-facing cancer or not-and has developed Team Courage as a way to tackle her fears and dreams while hopefully encouraging and inspiring others.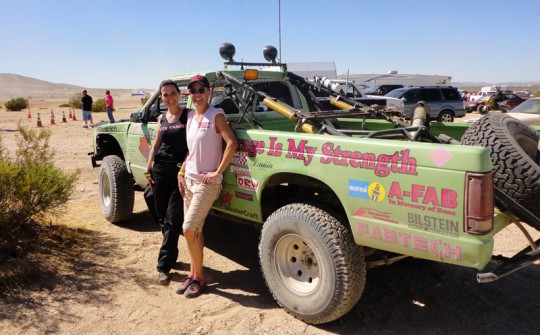 I have been lucky enough to have not known such physical trauma.  My demons swirl in my head, a never ending loop of negative self talk.   At the gym (Should have done 1 more rep!) At work (Your pink slip is imminent!)  On a date (Be perfect or he won't call!)  These ridiculous yet somehow logical thoughts swirl through my mind like the most annoying song on your iPod stuck on repeat.
I know these thoughts are self sabotaging, but usually the repercussions usually happen sometime in the future.  It's not an immediate result.  Not so with driving.  If I indulge in that negative self talk and dwell on my mistakes, I'm done for.  Gazelles will challenge me to get out of my head for nine days.  And with a partner involved, the stakes are even higher.  Michele wants to win just as much as I do.  If I can't focus like I should, I will disappoint her as well.
However, we both share the need for adventure.  When we find ourselves getting a little too comfortable in our lives, she in a small town in the mountains of Colorado, me in Washington DC, we both strike out on our own.  Michele has been working with NORRA for the past two years, helping to organize the Mexican 1000.  I've slowly been getting seat time in any race car available.  But frankly, it's not enough.  Running with the Gazelles is the adventure of a lifetime, and we both intend to be there.
We have 5 months to train our bodies and minds for 9 days in the Sahara.  It will mean changing our habits, a new exercise program for us both, and hitting the desert as often as we can to get as much seat time as possible.  20 weeks to become a stronger driver, a better navigator.  140 days to prepare for the challenge of our lives.
I'll be blogging about our road to Morocco right here on Female Racing News.  I hope you'll check back as we sign sponsors, prep our truck, and psych  ourselves up for one amazing rallye.  You can read more about Michele and me at www.teamcouragegazelles.com
Related Articles
Share
About Author