I've been all over this great big world of ours, but I'd never been to Florida before this past weekend.   What fun it was to meet all the Female Racing News ladies down in Orlando at the Performance Racing Industry trade show.  I talked up Gazelles to anyone who would listen and also talked to some fire suit manufacturers about doing some designs of women's suits.  It would be great to meld my design and patternmaking skills with racing and get a prototype out there.  Women in off roading face a few more logistical challenges then the men do while out in the desert and I have a few ideas to make solve those problems.
I had a TON of time to kill on the 1000 mile drive home on Sunday so I was able to catch up (via my hands free adapter, of course) with Michele.  She had some wonderful news!  Artist Christopher Swift has joined Team Courage Gazelles for the design of the 2012 Team Courage Gazelles Rallye Aicha des Gazelles truck. Although you may not recognize his name, Christopher's artwork has impacted the lives of almost every man, woman, and child. Some of his famous works include Avatar, Ironman, Alice in Wonderland, A.I., Jurassic Park, and Terminator, not to mention cult classics Interview with a Vampire, Friday the 13th and Child's Play.
Michele describes this artistic endeavor as "Completely natural! Chris has been one of my best friends for most of my life. I knew this project needed the vision of someone that really knows me, and knows how much this adventure means to me. The creatures that live in his imagination – both frightening and beautiful – speak to each of us. I knew he could create exactly the emotions we're trying to convey with this truck, create imagery that people will always remember."
Each team competing in the Rallye Aicha des Gazelles can wrap and decorate their vehicle.  Of course, I  wanted a truck that would stand out, but Michele drew the line at a neon orange paint job.  Instead we decided to inspire the women we are racing for. We  will be racing to encourage and inspire women facing breast cancer, while also raising funds for the National Breast Cancer Foundation.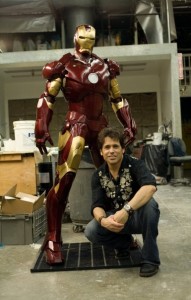 The design for Team Courage includes a wrap of a beautiful sunrise covering the entire truck. Tributes to women facing, fighting, or that have fallen to breast cancer will cover the truck in the form of butterflies. Christopher will be designing the butterflies that will represent each woman's tribute.
"Butterflies are a wonderful choice for this project," says Christopher. "Not only is a butterfly a perfect representation of a woman – the growth and beauty that each girl goes through as she becomes a woman – but it's also profoundly appropriate for women fighting breast cancer. These women go through unbelievable struggle and emerge beautiful and stronger and full of life."
Michele's truck at the Powder Puff race was a tribute truck, and I was so touched when I saw it.  There were over 120 names of women on that truck, and I'm hoping we double that number for the Rallye Aicha des Gazelles.
The 9 day Rallye Aicha des Gazelles is the only all female rally in the world. The teams must use superior driving skills and navigate through the southern desert of Morocco using only a compass and an outdated map. Courage tribute butterflies will be available soon. Donations from individuals to the Team Courage Gazelles team will be reflected as tribute butterflies. Look for the release of the design of the butterflies and information about how you can honor a loved one with a tribute in the coming weeks.  I'll be blogging about our road to Morocco here at FRN, but you can also  follow the team and stay up to date with all of the exciting developments at www.TeamCourageGazelles.com and on the Twitter @couragegazelles.
I've also redesigned my personal blog, so if you've made it this far, please check out www.hallassracing.com..  There are links to  car review videos, off road and autocross videos, pictures of races, and I've even written a word or two.
Related Articles
Share
About Author