FOR IMMEDIATE RELEASE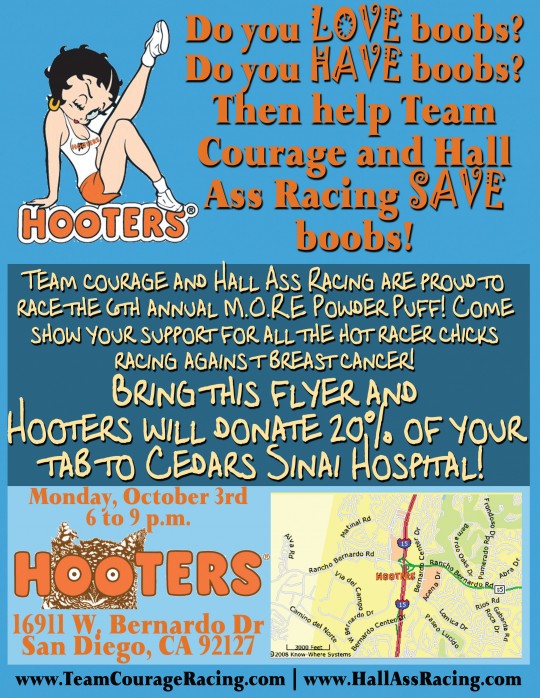 Washington, D.C., September 26, 2011 – Michele Martineau of Team Courage Racing and Emme Hall of Hall Ass
Racing are proud to announce their alliance with West Coast Hooters as they raise funds for Cedars-Sinai Breast
Cancer Research Center in association with MORE's Royal Purple Synthetic Oil's 6th Annual Powder Puff Race for
the Cure October 7-8 in Barstow, CA.
Simply visit http://teamcourageracing.com/hootersevent.html or http://teamcouragegazelles.com/
hootersevent.html to print out a flyer. Bring it to Hooters of Rancho Bernardo at 16911 West Bernardo Drive,
San Diego, CA 92127 on Monday October 3rd from 6-9pm, and West Coast Hooters will donate 20% of your tab
to Cedars-Sinai. Please note that this offer is valid ONLY at the Rancho Bernardo location.
Each year the Powder Puff raises more than $100,000 to support the Cedars-Sinai Breast Cancer Research
Center. Race organizers expect more than 75 teams and 25,000 spectators. Competitors run the gamut from
first-time drivers to professional racers with many podium finishes in both national and international races. The
only requirement is that drivers and co-drivers be female.
"Don't let the term Powder Puff fool you," said Hall Ass driver Emme Hall. "These ladies drive just as aggressively
as the men. We got fourth in class in 2009, second in class last year and I'm gunning for first this year."
About Cedars-Sinai Breast Cancer Research Center
Dedicated to breast health, the Center provides prevention, diagnosis and treatment of all types of breast-
related disease. Patient education, cancer screening, genetic risk assessment and risk reduction are key
components of their program in addition to oncologic and plastic reconstructive surgery. These services are
available in one convenient location. http://www.cedars-sinai.edu
About Team Courage Racing
Founded in 2009 by breast cancer 'previvor' Michele Martineau, Team Courage Racing consists of a Baja 1000
winner, a prior enlisted member of the Army AND Air Force, and a former Director of the National Off Road
Racing Association. Team Courage is currently planning races in the US and Baja to raise money for breast
cancer charities and to continue to encourage other women to keep living their lives to the fullest. http://
teamcourageracing.com
About Hall Ass Racing
Hall Ass Racing includes driver Emme Hall and her father, Larry Hall, as well as a team of unpaid (but highly
appreciated) mechanics, welders and wrenchers. Emme lives in Washington, D.C. and works as the Costume
Manager at Ford's Theatre when she isn't reviewing cars for Roadfly TV or campaigning her stock Miata in SCCA
autocross events. With team mate Michele, Emme will also be competing in the Rallye Aicha des Gazelles in
Morocco in 2012 as Team Courage Gazelles. http://www.hallassracing.com http://teamcouragegazelles.com
About Hooters
Hooters provides every guest a unique, entertaining dining experience in a fun and casual atmosphere delivered
by attractive, vivacious Hooters Girls while making positive contributions to the communities in which we live.
The casual beach-theme establishments feature "oldies" jukebox music, sports on television, and a menu that
includes seafood, sandwiches, salads and spicy chicken wings. http://www.hooters.com
Related Articles
Share
About Author