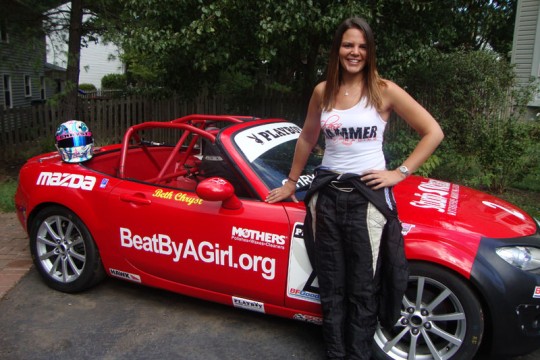 Indianapolis, IN, and Lee's Summit, MO – In a world where everyone is talking about racing as a male dominated sport, two organizations with similar interests in supporting female race car drivers have decided that needs to change. They have also decided that working arm in arm on some projects will help accelerate the development of promising young female racers. Glass Hammer Racing (beatbyagirl.org) and Race4Girls are delighted to announce their first collaboration to support the development of Mazda MX-5 Cup driver, Beth Chryst.
Chryst will be racing her BeatByAGirl.org sponsored Mazda MX-5 at Virginia International Raceway September 14-15. In addition to the race weekend sponsorship, the BeatByAGirl.org support has allowed Chryst to do additional testing and to obtain engineering and driver coaching needed to enhance her driver development. Chryst's duties for Glass Hammer Racing will also include mentoring younger female drivers as a GHR mentor and instructing the GHR Experience, an introductory karting school for girls age 10-15.
"I'm thrilled to be a part of Glass Hammer Racing," said Chrsyt.  "This is an organization that I wish existed when I had just started in karting 12 years ago.  They really want to see female race car drivers succeed and chase their dreams.  I have been involved with Race for Girls for about a year now and these two amazing organizations joining is awesome!  It is a great way for current female race car drivers to network and be involved in supporting each other. "
Glass Hammer Racing founder and owner, Greg Gaich, commented on Chryst's career the last few seasons. "What we saw were the continued week-to-week improvements, even without the funding to provide all the development opportunities a lot of the other drivers had," noted Gaich. "We are very keen to see the advances she can make with a little bit of extra testing, coaching, and engineering support the rest of the season."
Glass Hammer Racing (www.beatbyagirl.org) and Race4Girls owners launched their organizations within months of each other. While the purpose of each organization is to support female race car drivers as they are moving up the ladder, the two approach that goal in different yet complimentary ways.
"Greg (Gaich) is highly interested in helping drivers develop on- and off- track skills. His organization provides mentors who can teach a racer how to feel the car, what to listen for, how to communicate to the crew chief and so much more," said Tracey Passantino, Founder and CEO of Race4Girls. "Tracey and I have been talking for over a year about our goals and how we might work together," said Gaich. It's great that we found a driver we both think has earned our support and has a lot of potential."
Following her debut in the BeatByAGirl.org sponsored Mazda MX-5 at Virginia International Racway this weekend, Chryst will be working toward racing in the October MX-5 Cup season finale at Road Atlanta, in conjunction with Petit LeMans.
# # #
About Glass Hammer Racing, LLC
Founded in May 2010, just a mile-and-a-half from the Indianapolis Motor Speedway during Indianapolis 500 practice, Glass Hammer Racing conducts introductory racing experiences geared to just young women, exposes young women to role models in all areas of motorsports and supports the advancement of young women in their motorsports careers through scholarships and sponsorships. GHR is delighted that the first three female racers who have been drivers or instructors for GHR have all advanced to full-time professional racing careers for the 2012 season. For more information, please visit Glass Hammer Racing on the World Wide Web, http://www.beatbyagirl.org, or follow us in Twitter http://twitter.com/glasshamrracing or Facebook http://facebook.com/glasshammerracing.
About Race4Girls
Race4Girls helps professional female race car drivers in the US become more successful on and off the track. The organization offers corporate partners a powerful marketing platform for branding and sales. It also offers fans a secure way to provide financial support to female racers. Race4Girls was founded in March of 2011. More details about Race4Girls and registered drivers can be found at www.race4girls.com.
Related Articles
Share
About Author