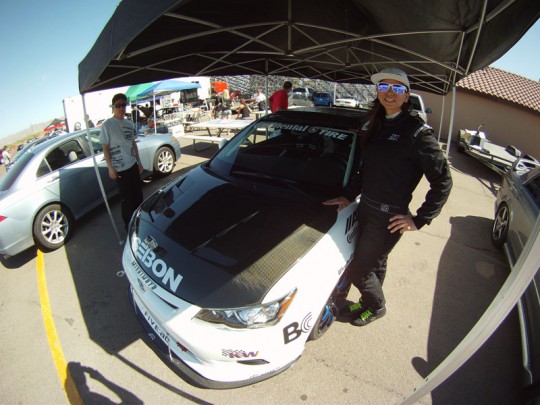 March 31st, 2012 marked the 6th annual Modified Magazine Tuner Shootout in Chandler, AZ sponsored by Continental Tire.   I had been invited to compete in the FWD class and was lined up to drive the 2011 Gruppe-S/Dynamic Autosports Scion Racing tC!  This was such an amazing opportunity because it put me into the tC platform that I raced with all last year, but now, it held the power of boost!   This turbocharged tC has some great kick to it and it showed when we competed against all the other teams at the event.
For those of you who are not aware of the Modified Magazine Shootout, here's the deal (source:http://www.modified.com/news/modp-1202-2012-modified-tuner-shootout/index.html):
After five years of our no-holds-barred Tuner Shootout event, we've decided it's time to mix things up a little. Just like in previous years, the Shootout is being held in the Phoenix, AZ area, with UMS Tuning hosting the dyno competition (March 30th, 2012) and NASA AZ hosting all the on-track action at Firebird Raceway (March 31st, 2012). The Shootout is also still going to feature an autocross, a time attack, and a drag race, along with a power test on the dyno.
But to put a new twist on the event, the 2012 Shootout will cater to street driven yet still highly tuned vehicles, rather than the all-out race cars that have dominated the event in years past. This means the entrants this year will be cars with full OEM glass, OEM fuel tanks, and OEM lighting (headlights, turn signals, and taillights), full interiors from the front seats forward (aftermarket seats and harnesses permitted), and a full exhaust system (no cut-outs or bypasses) including a functional catalytic converter and muffler.
To measure what we consider two of the most important aspects of any street driven tuner car, we've added an emissions component (using a tailpipe sniffer) and an exhaust sound level component (using a dB meter) to the dyno competition. As a result, the winner of the dyno competition may not be the team with the most powerful engine, but rather the team with the best combination of power, low emissions and legal exhaust dB.
Once again Continental Tire is the title sponsor, and given that this year's event is meant for street driven cars, we'll be requiring all teams to compete on Continental street tires (most likely their Extreme Contact DW, which come in a wide range of sizes).
There will be four events that will judge the performance of your car. Dyno (25 points) + emissions (10 points), Drag (75 points), Autocross (100 points) and Time Attack (100 points). The car with the highest overall score from these four events will win the overall championship. Trophies will also be awarded to the highest scoring FWD, RWD, and AWD cars.
The results of the event will be in the August issue of Modified Magazine, which will probably hit the stands in June/July.  I can't tell you much but I can tell you we were the fastest FWD car in one of the racing events!  This event was a perfect season opener for me and the Gruppe-S team and I am extremely excited to announce that you will see us working together more throughout the 2012 season!
I'd like to take a moment and thank the following people for their support for this event and many more:  Scion Racing, Gruppe-S, Dynamic Autosports, Eddie Kim, Eugene, Anthony Philleo,  Jeff Abrams, and Jay Bronquillo. Also, huge thank you to my home from home the NASA AZ region who always put on great events!
Follow Michele:
Twitter: @mspm1chele
Facebook: Michele Abbate
Related Articles
Share
About Author