Courtesy of IndyRacing.com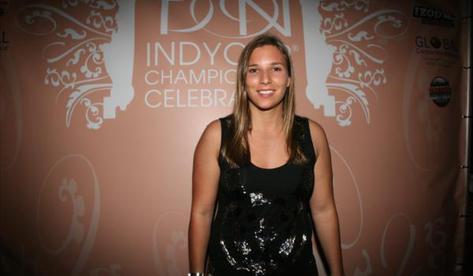 Walking off the Championship Celebration stage Oct. 3 with the Tony Renna Rising Star Award, Simona de Silvestro felt a sense of accomplishment for the 2010 season and determination to improve in her second year.
The 22-year-old Swiss driver finished 19th in the IZOD IndyCar Series standings (second in Rookie of the Year chase) with two top-10 finishes and a suitcase full of experience. She'll return with HVM Racing for the 2011 season.
"I'm really thankful to Firestone for giving me this award," said de Silvestro, who also was voted the Indianapolis 500 Rookie of the Year after advancing eight positions to finish 14th. "It shows that we really worked hard this year with HVM Racing. It's just great to be part of a team like that because they really believed in me and they let me be who I am.
"The series is just great and I'm looking forward to being back next year."
De Silvestro, an Atlantics graduate, opened eyes in the mid-March opener on the streets of Sao Paulo, Brazil, by qualifying 11th. Though top-10 results were difficult to come by in the first half of the season on road/street circuits and ovals she had not competed on, the No. 78 car consistently was running in the top 10 at some point of races. She posted a high finish of eighth at Mid-Ohio and a best starting position of seventh at Edmonton.
"We had a lot of ups and downs, but there were a lot of really good ups I believe," she said. "We were running up front with the big guys at a couple of races, and going into the season I didn't expect that at all because we might be the smallest team out there.
"This year I learned a lot on the ovals and also the road courses. There are so many things like doing pit stops and how a race is unfolding. Coming from Atlantics where the races are much shorter and coming to IndyCar where the races are much longer and everything is bigger, you have to manage tires and manage yourself not to get tired. It will help me next year to be stronger."
HVM Racing owner Keith Wiggins didn't want the efforts of 2010 to go by the wayside, and the team now seeks to improve its financial foundation for the 17-race 2011 season.
"When we started this season we could not have anticipated the challenges we would face, both financially and on track, with incidents and equipment damage," Wiggins said. "However, we could not also have anticipated the development of Simona in such a short period. The team and driver showed what is possible.
"Now it is time to put 2010 behind us and do the job properly in 2011. This team knows how to win and we are focused on getting the right package together to move forward."
Related Articles
Share
About Author