Courtesy of Espn.com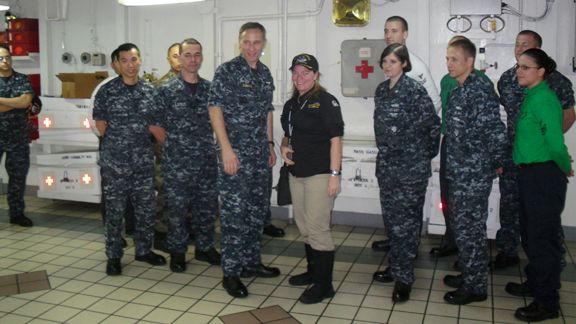 Day 3 (so tired!!!)
We got up so early — I believe it was 1 a.m. when we left the Ramstein Inn. So, I was eager to get on the KC135 (our plane) to take a long nap. Its wings fold up (storage on a carrier is minimum), and passengers sit race-car style with four point harnesses. We had to don Craniums (soft-shell helmets) and face masks (similar to ski masks). Sleeping upright has never been a strong point of mine, but you can imagine after taking sporadic three-hour naps that I was more than ready to take a shot at it! So, on with the sleep mask (I'm sure there are some funny pictures out there), and on to Bahrain to drop the Two Seater and the Indy Experience team, then transfer on to the aircraft carrier USS Abraham Lincoln.
The landing part was not as scary as I thought it would be. When they lowered the back door, it's like we were instantly in the movie "Top Gun." Yeah, those guys are real.
As "Distinguished Guests," we were escorted into the captain's galley to be briefed on our short stay on the carrier. "Sarge," the captain, welcomed us and introduced us to the staff that would be handing our stay. This was very prestigious — many don't get the opportunity to even walk through his hallways. In his office, was a newly mounted deer-head — the only one at sea, I was told. That was his "little bit of home!"
He also introduced us to the female captain, who was in charge of the destroyer fleet protecting the carrier. She is a very interesting lady! I was excited to catch up with her later to talk about her experiences.
Our first tour was of the staterooms. Everyone had a bunkmate, and mine was Cameron (Ms. IZOD IndyCar). And yes, I got the top bunk.
The showers, and the "female head," are much like a gym or a dorm, only less homey.
After dinner in the general mess area, we signed autographs for as long as our eyelids would stay open. There was such a great turnout. One of the sailors who had residenced on board for 15 years told me that it was a bigger turnout than when Pam Anderson showed up!
During the autograph session, some of us were taken to the ready rooms, where the pilots were being debriefed from the day's missions. Meeting the helicopter pilots was probably my favorite part — thinking of my late Uncle Frank.
 Taking a small break, we grabbed a few wings from the Commanders' lounge and then set off to sign a few more autographs. At this point, I was very thankful for the extra Dramamine that Andy, my husband, brought to me before I left the U.S.
Meeting the female Captain. I talked to her about the ideals of racing. She has a Porsche and takes a few driving classes. They return [to the States] in April. She lives in the San Francisco area. … She's awesome. We talked about being females. I told her there was only one guy against me, and I started my own team as a result. My results enable me to demand that respect. I'm going to e-mail her; I hope she can go to a race.
 Went to the room, got a shower. Very much like college, at least they gave me a robe and an awesome towel and flip-flops. Looking forward to three hours of sleep and then we'll do it all again!
 Day 4
 Day two aboard the USS Abraham Lincoln. We started off with breakfast in one of the higher-ranking mess areas. I sat with a sailor whose son had sent Lego man Indiana Jones with him. It was nice to see one of the ways these sailors identify and relate to home. Always looking for that little bit of America in their pockets.
From the mess room, we went to the bridge to see how the ship is actually run. Everyone is in charge of their job and trusted to do it to the best of their ability. And they do. It's very impressive to see such confidence within a young group.
We signed a few more autographs, and from there, it was on to the flight deck. It's an experience that none of us will forget. The fighter jets being launched off deck were probably one of the most incredible sights I have ever seen. There was one female pilot who could have passed as a model. … She launched solo in one of the fighter jets. That was very inspiring. And then to see one of the big boy F18s take off was just overwhelming. It seems corny, but I shed a little tear.
A radio malfunction on the primary COD plane that we were using to catapult off of the ship cause a slight delay, so we stayed aboard for another two hours. But it allowed us to witness actual captures of these planes landing. 0-180 in reverse is also very impressive!
Launching off the ship. … The most G's I think I have ever experienced! Yes, more than Texas!
Our hotel in Bahrain, The Gulf, was over the top. The folks from Morale were taking care of us in first-class fashion, knowing we would have a full night's rest for the first time since leaving the U.S. … My room was larger than my first condo in Indianapolis! However, without the proper AC converter, I'm pretty sure I blew up my new blow-dryer.
So, with a full night of rest ahead, I made a phone call to my sweetie to wish him happy birthday, and I was settled in for the night.
Related Articles
Share
About Author