Smutny Getting Very Close To Hoisting the Winner's Trophy After Strong Races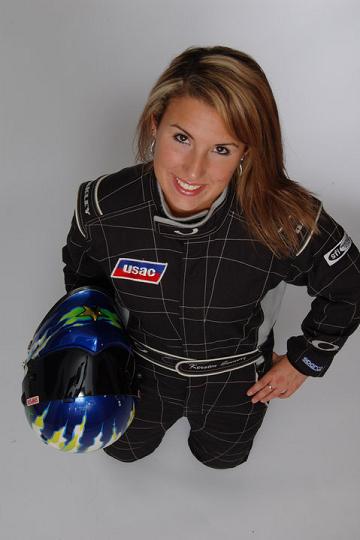 Bothell, Washington – September 6th, 2012 – If one hears a loud yell of approval and the sound of a bottle of champagne being popped open and sprayed, it's probably because young Kerstin Smutny is celebrating her first victory.
While that moment hasn't quite happened yet, Smutny is right there, knocking on the door in the Formula Car Challenge Formula Speed 2.0 series, nailing down third place finishes in all of her performances thus far heading into her most recent races at Race Sonoma on the weekend of August 25th-26th.  Surely, momentum was building to the point that the talented and calculative driver would edge her way closer to the winner's circle.
Despite getting very little practice time on Friday, August 24th, Smutny was encouraged with her chances at contending for a pair of wins at Sonoma. As they say in racing, she was "fast off the truck," which is a surefire sign that a racer has a legitimately amazing car at their arsenal.  Taking notice of the track's changes throughout the race weekend, Smutny was elated at her chances for wins, as she reflected upon her first race.
"We made a couple of changes to the car on Friday night carrying into Saturday morning with another qualifying session and race one on that day," Smutny said.  "I did not get a great start as I was a little further back in the field but was able to rally, again, with a third-place finish out of race one and get a good lap time in the race as that would determine the starting position for the second race on Sunday."
Confidence and desire surely presided with Smutny and her No. 26 team, as they knew that all the ingredients were there for a tremendously successful second race.  Both driver and team were absolutely running on all cylinders and on rails, just needing all the pieces to fall at the right places and time for that win to complete their season.  As such, she knew that the track would be different from its conditions on Saturday.
"We waited all day Sunday as we were racing after the IndyCar race," Smutny said.  "I was happy with getting a better starting position for that race."
To say the least, her second race bared some resemblance to a stock car race at Talladega or Bristol, with all sorts of action all over the road course.  Like the championship caliber driver that her competitors have known this season, Smutny put together a career day, best described in her words.
"Race number two was the big one in more than one way," Smutny recalled.  "There was a lot of carnage to avoid, with two cars getting into each other in turn two at the top of the hill and one ended up flipping (driver not seriously hurt), causing a five-to-10 minute black flag.
"It took a large chunk out of our race time as the races are only 30 minutes long.  I had a good restart when things got going again and was able to pull off a second place finish, which is my best of the season! Even after another yellow flag that caused the race to end under yellow, it is always a little disappointing as I think every driver prefers to race to the finish."
Like a good movie where the end results are usually spectacular, one has to be delighted and very excited at the prospects of a victory or two for the pride of Washington State.  After nabbing so many close but no cigar results this year, it looks like it's time for Kerstin Smutny to hoist the ultimate trophy and do some celebratory doughnuts.  Encouraging and amazing, it is not a stretch to say that Smutny is truly on the right track to becoming a consistent winner and that time may be real soon.
Kerstin Smutny's No. 26 entry is made possibly with support from Veer Architecture, p.l.l.c. and World Speed Motorsports and her main racing focus will be on the 2012 FCC FS 2.0 division.  Smutny and her team would love to team up with the right business partner to sponsor their efforts for the remainder of the year, with the promise of that company's colors being carried at the front of the field and into Victory Lane.
Catch up with open wheel's next biggest star by visiting her official website at http://kerstinsmutnyracing.com/, as well as her columns onhttp://thepodiumfinish.com, her Facebook Fan Page, and her Twitter page at for up-to-date info on the pride of Washington State!
Related Articles
Share
About Author