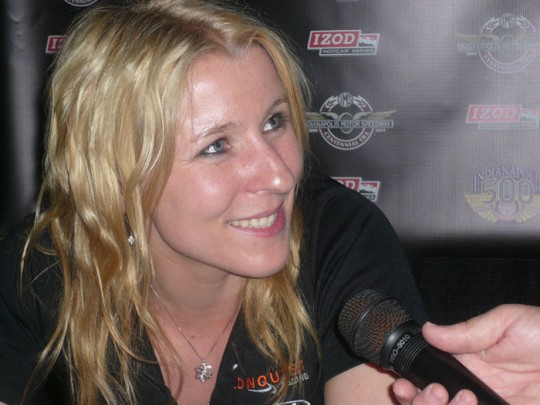 INDIANAPOLIS, Sunday, May 20, 2012 – After learning she won't be given the opportunity to compete in this year's Indianapolis 500, British racer Pippa Mann is simply switching her focus to the remaining races on the 2012 IZOD IndyCar Series schedule.
Mann's efforts to get into a car and qualify for this year's Indy 500 were relentless. The Firestone Indy Lights race winner was present at the Indianapolis Motor Speedway for every practice session since opening day, exhausting every option and ready to jump in at any point.
However as fans began arriving at The Brickyard to take their seats in the stands for Pole Day, Mann was given the news that she would not be getting a chance to make this year's field. "Sometimes these things are beyond our control," said Mann. "When you know that you've done everything you can to achieve something, and it still doesn't happen, it's frustrating and of course massively disappointing. But I did all I could and to that end, I have no regrets. Ultimately my only option now is to pick up, dust off, and get back out there!"
Mann has already turned her attention towards securing a drive for the rest of the year. "We're still looking for sponsorship but I'm as determined as ever, and I know with the right people, we can put a deal together to run in the series for the remaining races. I'd like personally to thank everyone who worked with me to try and put this car on track, and everybody who wished me well this month. The support has been overwhelming and I want to assure everyone that we're not giving up."
Regardless of her involvement, Mann is still looking forward to the greatest spectacle in racing. "I'm passionate about racing, especially the IZOD IndyCar Series, so while my preferred seat is the cockpit, I'll definitely be watching from the sidelines to see how the rest of the month pans out. I can't lie and say it won't be tough seeing the green flag wave on Race Day, as I have such good memories of competing in my first Indy 500 last year, but it's just one of those things. If it was easy – everyone would be doing it!"
The 96th running of the Indianapolis 500-Mile Race is Sunday, May 27. There are 11 remaining races on the 2012 IZOD IndyCar Series schedule.
Related Articles
Share
About Author