Courtesy of USA Today
When Simona de Silvestro replays the last six months in her mind, two images materialize. In the first, she's blasting through the streets of St. Petersburg, Fla., inches away from Tony Kanaan's rear wing, fierce and tenacious and resolute in the season opener. In the second image, four months later, she's carefully climbing from her car in Milwaukee after 11 laps, dizzy from a concussion, a stitched laceration on a knee, nerves spent, cold and flu coming on, desperately in need of some time off.
The 2011 season has been that way for de Silvestro, the 23-year-old Swiss driver who went from Indianapolis 500rookie of the year in 2010 to the good-bad puzzle of her second season. She was, at times, extraordinary this season. At other times, her confidence and skills were on hiatus.
"Honestly, I'm going to be really happy when this season is over," she said. "It's been a tough, tough year in certain phases. I've come back OK, but it's been a lot of work to get there. I just had to overcome so many crashes. Any athlete has a tough season now and then, but this one is the toughest I've ever been in."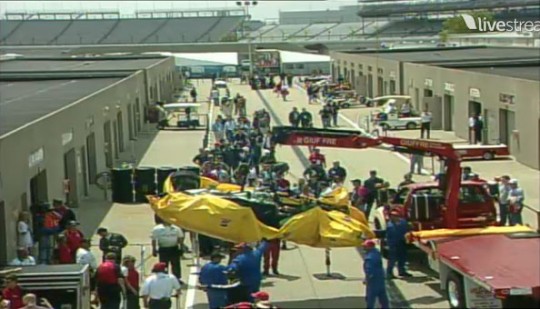 The bad was exceedingly bad. In May, de Silvestro became a YouTube sensation with a startling crash during practice for the Indy500. Her car ripped into the fence, flipped and caught fire. She unbuckled and crawled out, but burned both hands in the process. Weeks later, she crashed during qualifying at the Milwaukee Mile and sustained a concussion that wasn't diagnosed until after she couldn't finish the race the following day.
The problems had a common denominator — oval tracks. A European-trained road racer, de Silvestro had little experience on ovals before reaching the Izod IndyCar Series. While impressive on road and street courses — including a fourth-place finish in St. Petersburg, Fla., — she struggled with the aftermath of big crashes on ovals, including a fiery crash at Texas Motor Speedway in 2010 and the Indy incident in May.
"Part of it was having to go through it twice in a short period of time," she explained, referring to the four weeks between the Indy and Milwaukee crashes. "Everybody on the team went through a low point. We came back OK, but it took a big toll on everybody."
It certainly didn't take a toll on de Silvestro's popularity. With the impending departure of Danica Patrick for NASCAR, de Silvestro has been given a label that makes her wince and blush — the next Danica.
"It's only natural for people to make that connection, but we're pretty different in our personalities and other stuff," de Silvestro says. "With her going to NASCAR, it's natural for people to look for someone to replace her, but it's not what I'm looking for. I'm just looking to be competitive. If I do ever start racing correctly and running up front consistently, then the attention will come, but I'm not here for attention. I'm here to race."
Patrick, who generally avoids comparisons to female drivers, acknowledged de Silvestro's potential. "Being a leader is about working hard and getting the most out of yourself every day," Patrick said. "Anything else is just what makes your story."
But can de Silvestro fill the attention void Patrick leaves behind? After the Indy fire, she became a sentimental fan favorite as she raced with her burned hands wrapped in gauze and candidly acknowledged that she was scared to get back in the car.
"She's not just a great female racer, she's a great racer, period," IndyCar Series CEO Randy Bernard said. "She tries hard and does well. She'll get a tremendous amount of press in her own right. Simona hasn't been blessed with the same type of race car that others have had, but if you listen to the engineers in the sport, Simona has talent. You can't build stars; they have to give you something to build from. I think she has that."
With the season finale this weekend at Las Vegas Motor Speedway, de Silvestro sensed a return of confidence on ovals. At Kentucky Speedway on Oct. 2, she started 13th and was gaining ground when a clutch problem suddenly spun her car in the pits, striking a crew member from E.J. Viso's team. She apologized to the crew member, who wasn't seriously injured, then faced the camera for a live TV interview, no sign of stress or fear or the usual post-crash rattling.
A few months ago, that incident would have shattered the old Simona. But for the new Simona, it was part of the business.
"I look at things differently now," she said. "It's a big difference. I'm pushing myself and enjoying my accomplishments. Before, I saw things like I was looking through a tunnel. It's more open for me now. I realized that everyone was behind me and helping me. It's made me want to work harder to get better, and I think I'm getting there."
Related Articles
Share
About Author