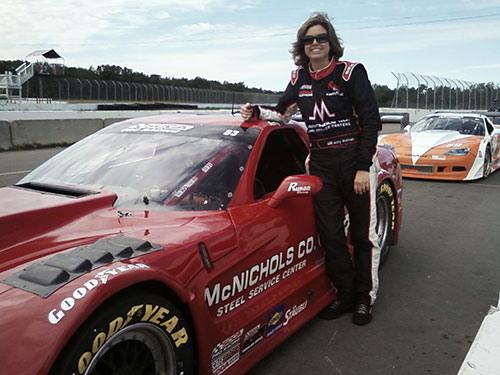 Watkins Glen, NY. (10 June 2013) – When the Trans Am Series visited historic Watkins Glen over the weekend, Amy Ruman had been hoping for a strong result in her newly repaired No. 23 McNichols Co. C6 Corvette as she targeted a return to the Watkins Glen podium. She appeared well on her way to do just that after setting the fastest lap of the race as she moved through the field to run second when a mechanical issue on the C6 machine thwarted a promising run for the Ruman Racing team.
The weekend opened with two very wet practice sessions as Ruman worked to dial in the Corvette which had been damaged at Canadian Tire Motorsports Park a few weeks earlier. Ruman Racing had utilized the team's backup car for the previous round at Lime Rock Park, but had the newer C6 ready to go for Watkins Glen after countless hours of preparation at their Ohio race shop.
Unfortunately, a power steering problem during qualifying on Saturday resulted in Ruman not being able to show the car's full potential as she slotted into seventh on the grid. But once again the Ruman Racing crew went right back to work and had the car race ready on Sunday.
It was evident right from the drop of the green flag for the 29-lap race that any issues with the No. 23 Corvette had been resolved as Ruman began a charge through the field to run third by the fourth lap. On Lap 7, Ruman moved into second position and began chasing down the leader as she set the fastest lap of the race with a time of 1:51.075-seconds around the legendary 3.4-mile road course.
As she ran less than a second behind the lead car of Doug Peterson, she stretched an eight-second gap over third place and continued extending it for the following five laps to maintain an 18-second margin as she ran at a furious pace.
But the blisteringly fast run was halted on Lap 14 when Ruman was forced to pit lane when the distributor rotor failed. She spent 10 excruciating laps in the pits while the resilient Ruman crew went to work to quickly make repairs and return her to the track in order to gather points toward the championship.
The efficient pit work saw Ruman back on track with four laps remaining in the race but with so much track time lost, she was forced to settle for ninth at the finish.
"It was really disappointing to have something like that take us out because the No. 23 McNichols Corvette was running great and we had a podium car for sure – if not a winning car," said Ruman. "The team gave me a really competitive racecar so I'm disappointed we couldn't reward them with a better result. Big props to my crew – they worked nonstop for three weeks back at the shop and at the racetrack. They are so dedicated to me – they really are the best crew ever! I was so disappointed for them yesterday and they continued to work in pit lane and get me back out there! We will regroup for Road America and hopefully I can repay them with a good result there."
With the ninth place finish, Ruman remains fourth in the Trans Am championship.
Ruman next travels to Road America in two weeks for Round 5 of the championship on Friday, June 21.
Sponsors: McNICHOLS Nationwide Service Centers is the nation's largest distributor of Perforated and Expanded Metals; Wire Mesh; Bar, Plank, and Safety Gratings; Stair Treads; Matting; and more. Products are carried in all styles and materials–stocked for 24 hour shipment. "Inspired to Serve"™ 800.237.3820 mcnichols.com.Goodyear Tire & Rubber is a Ruman Racing sponsor as well as the Series sponsor.
For quick news and updates during race weekends, please follow Ruman Racing and the Trans Am Series on Twitter: @rumanracing and@gotransam. Be sure to "Like" our official pages on Facebook: Ruman Racing, Amy Ruman (Official Fan Page), McNichols Company, and Go Trans Am.
Race Info/Scoring/Results: www.gotransam.com
Live Timing/Twitter Feed:www.gotransam.com/live-timing-and-scoring/
Looking ahead: Round 5 – Road America, Elkhart Lake, Wisconsin (June 21) || Round 6 – Mid-Ohio Sports Car Course, Lexington, Ohio (August 17)
Ruman Racing, Inc., is based in Munroe Falls, Ohio.
Related Articles
Share
About Author