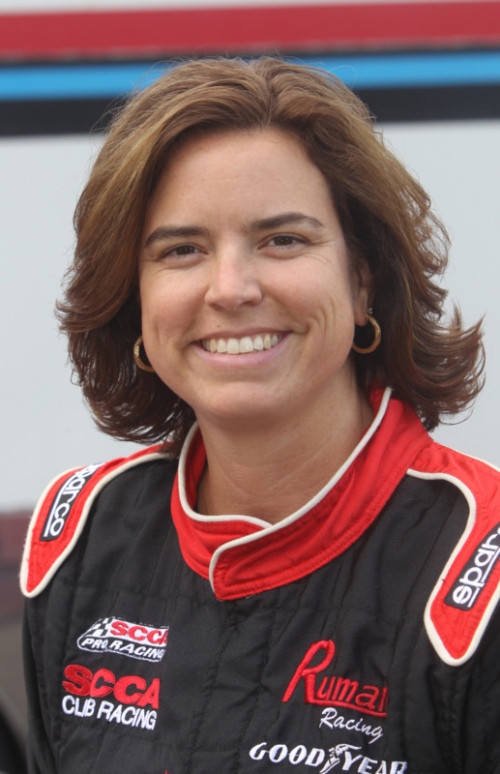 Elkhart Lake, Wisconsin (24 September 2012) – No one wants to show up for a gun fight with a pocket knife, so when Amy Ruman prepared to head to Elkhart Lake, Wisconsin and fight for the SCCA National Championship in GT-1 competition at Road America last Friday, she made sure to bring everything she needed to go up against the best in the land as she looked to return to the National podium once again.
Ruman's packing list for the week-long race meeting included the fast and well-prepared No. 23 McNichols Co./Goodyear/Cenweld Corvette, an experienced and knowledgeable Bob Ruman-led Ruman Racing crew, and lastly, some race-winning momentum.
Transitioning from Trans Am competition, where Ruman scored a win in the most recent round at Brainerd International Raceway, to the GT-1 ranks was something Ruman was already familiar with. The Ohio-based racer has had a busy summer as she netted wins in SCCA competition at Watkins Glen, Summit Point, and Mid-Ohio as she worked to qualify for the huge National race in addition to running the full Trans Am schedule.
Three rounds of qualifying at Road America this week saw Ruman continue to generate data for the all-important tire selection for Friday's 13-lap race. Ruman, who earned a Bronze medal for her run to third in the GT-1 National in 2010 was hoping to add to the trophy collection in an event that has been important to the entire Ruman family for many years.
Friday's race saw her line up from fifth on the grid, moving up to fourth right at the drop of the green flag. The lead three cars grew a significant gap to the field in the early laps, with Ruman keeping the trio in sight, just two seconds behind.
"Unfortunately I had a brake problem at the beginning and they got away from me a bit," said Ruman immediately after the race.
But that small issue didn't phase Ruman, who has had to overcome hurdles before.
As the laps clicked off, Ruman grew into a more and more threatening presence in the final laps – running a half a second a lap faster than the lead pack. Despite having a strong pace late in the race, her effort to return to the podium came up just short as she crossed the line in fourth place as announcers Dorsey Schroeder and Greg Kramer made the call through her strong charge to the finish.
"Once I settled in, I was able to catch them," said Ruman post race. "I just needed two more laps! I got a little loose in Turn 14 with two laps to go and that cost me some momentum. But we had a good car and it was a strong race and we've had a good season. We were hoping to be back on the podium here in the National, but I'm still pleased with how things went this week. Congratulations to Mike (Lewis) on his win and now we'll look ahead to the Trans Am double header at Road Atlanta."
In case  you missed the live video broadcast of the GT-1 race last Friday, don't worry you're in luck! Log onto http://www.speedcasttv.com/#/races/309and fast forward to the 211 minute mark to see a replay of the GT-1 race and Ruman's post race interview.
Next up, Ruman will return to Road Atlanta for the Trans Am season finale double race weekend November 3-4. Ruman, who won the Road Atlanta round of Trans Am competition in 2011, holds second in the championship standings ahead of the double-header race weekend.
For quick news and updates during race weekends, please follow Ruman Racing and the Trans-Am Series on Twitter @rumanracing and @gotransam. Be sure to "Like" our official pages on Facebook: Ruman Racing, Amy Ruman (Official Fan Page), McNichols Company, and Go Trans Am.
Race Info/Scoring/Results: www.gotransam.com
Live Timing/Twitter Feed: www.gotransam.com/live-timing-and-scoring/
Looking ahead: Rounds 9 & 10: Double at Road Atlanta, GA – November 4
Ruman Racing, Inc., is based in Munroe Falls, Ohio.
Related Articles
Share
About Author