TrueCar driver will race a 2012 Honda Civic Si in Touring Car championship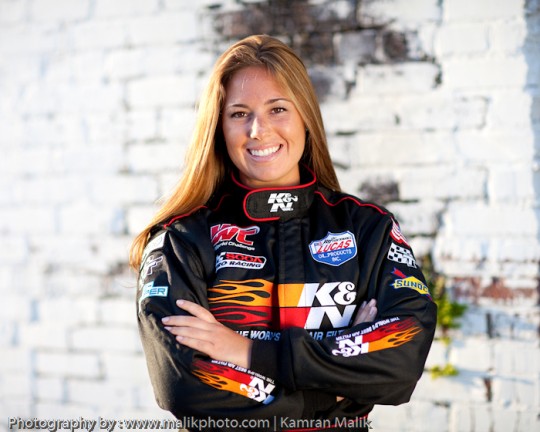 (St. Petersburg, FL) — Compass360 Racing (C360R) released details of the first of their four-car Pirelli World Challenge program today with the announcement that Florida's Shea Holbrook will join the team in defending its 2011 Touring Car championship. Holbrook will return to the series, which she's competed in for the past two seasons, with her familiar Shea Racing #67 number plate on a brand new 2012 TrueCar, C360R Honda Civic Si.
"We've been talking with Shea since she sent me an email back in 2009," remarked C360R Team Principal Karl Thomson. "She's made great progress as a driver since then, and we're really excited to welcome her to our squad as an integral part of our run for the TC championship this year. She first drove one of our cars at St. Petersburg last season and I'm just thrilled to have her with us for the full season."
Holbrook, who last year became the first woman to win a Pirelli World Challenge Touring Car race (at Long Beach, California where she also won the Optima Batteries Best Standing Start award and the Sunoco Hard Charger award), will represent new sponsor TrueCar throughout the year. "For young people, and young women in particular, this opportunity proves that you should never give up on your dreams because you never know what opportunities are just around the corner," said Holbrook. "It's an honor to drive for a team that's won so many championships and has such depth on the technical side, and to represent a sponsor like TrueCar that really understands racing."
The #67 car will enjoy support from Honda Performance Development and will feature TrueCar livery as part of the firm's "Women Empowered" initiative, which is an extension of the company's efforts to help women enjoy the best possible car buying experience. With over 80% of car buying decisions influenced by women – and 50% of all car purchases made by women - this impactful audience is a significant part of the automotive retail landscape which will be marketing through associations like the one with Holbrook.
The World Challenge season begins with a double-header race at the St. Petersburg Grand Prix with IndyCar, March 23-25. The event will be televised, taped-delayed, on NBC Sports. For more information visit www.c360r.com
TrueCar, Inc. is an automotive solutions provider focused on changing how cars are sold by providing a significantly better customer experience while helping qualified dealer partners gain incremental market share and reduce costs.  TrueCar is a visual publisher of new car transaction data.  TrueCar price reports help both dealers and consumers agree on the parameters of a fair deal by providing an accurate, comprehensive and simple understanding of what others actually paid recently for an identically-equipped vehicle both locally and nationally.  TrueCar works with a national network of dealers that provides a no-hassle car buying experience, and in many cases a highly competitive upfront price, to assist some of the nation's largest and most well respected membership and service organizations to meet the auto research and buying needs of their members and customers.  TrueCar is headquartered in Santa Monica, CA and has offices in San Francisco, CA and Austin, TX.  With 131 percent annual growth since 2006, TrueCar has connected hundreds of thousands of consumers with dealers nationwide resulting in the sale of over 400,000 vehicles and is developing a suite of products and services centered on radical clarity through the comprehensive analysis of market data and information.
You can follow TrueCar on Twitter at www.twitter.com/TrueCarRacing and become a fan of TrueCar on Facebook at www.facebook.com/TrueCar or visit their website www.truecar.com
About Shea Holbrook
Shea's passion for driving started when she was 16 with a "Richard Petty Experience." Shea quickly began excelling in the motorsports world through high performance driving events all throughout Florida. She then went on to obtain her SCCA license and since then Shea has been road racing competitively all over the nation with many organizations, from sprint races to 25 hour enduros. Shea debuted her first professional race season with SCCA World Challenge Pro Racing in 2010 finishing 6th in the championship. Shea became the first women to ever win a Pirelli World Challenge Touring Car race in 2011 winning the Long Beach Grand Prix along with winning Best Standing Start and the Hard Charger Award. She's also the fourth women to of ever won a professional race at Long Beach alongside Katherine Legge, Dancia Patrick and Simona De Silvestro. Shea is currently attending the University of Central Florida majoring in Communications/Marketing in which she'll graduate in May. Something you may not know about Shea is that she is a accomplished national competitive water skier holding numerous state, regional and national titles. Shea received the "Living Legend Honoree Award" for her on and off track efforts and has been honored in the "Women in Motorsports" SuperCars Super Show Exhibit. In 2008, Shea became a "Women in the Winners Circle" graduate of the Lyn St. James program. "Fear is a state of mind, will is an action taken." Shea lives this quote and believes through commitment and determination anything is possible. Helping others is another love of Shea's. Shea Racing partnered up with Frito Lay Corp., in 2008 to raise $12,500 for the Susan G. Komen "For the Cure." She has also raised thousands of dollars and awareness for her charity of choice, Parent Project Muscular Dystrophy (PPMD.) PPMD benefits Duchenne muscular dystrophy which affects her own family.
You can follow Shea Holbrook on Twitter at www.twitter.com/SheaRacing and like her of Facebook at www.facebook.com/SheaRacing8
Related Articles
Share
About Author