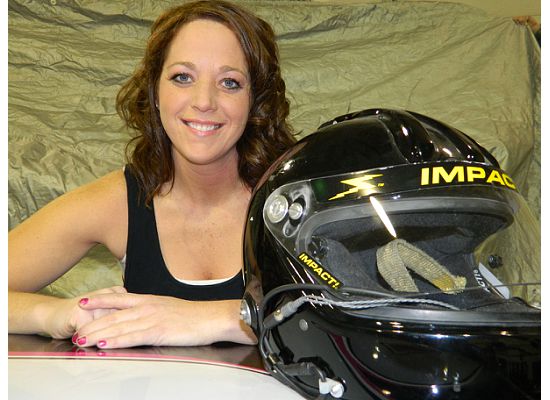 Wow, this summer has gone by incredibly fast! I have been racing at Elko Speedway on a regular basis and have had my share of ups and downs.   We started the year out on a very high note, qualified 7th out of 23 cars, and won the best appearing car and crew award.  I was pumped for the season after that and had hoped I would have a breakout year!  Elko Speedway is said to be one of the toughest tracks and if you are competitive and run well here, you will run well anywhere.  I have competed at Elko Speedway in the past but  never an entire season.  This year, I wanted to push myself to become a better driver, and stick it out the entire year instead of quitting to race at an easier track for a better finish.
Go ahead and check out my results, you won't see a lot of top fives or wins, and you will probably think that this was a bad or a waste of a season.   However, what you should see is that we passed cars every night and got faster every week.  Yes, there were a few stumbles along the way, when we were trying new things and seeing what exactly works and what doesn't.  It is hard for me to not have the wins or top fives, but I, like everyone else, has to take a step back and see what I have accomplished. I've been racing at a very fast, "up on the wheel" kind of track, and have been running well.  I haven't wrecked, knock on wood, and have been able to concentrate on trying things and making the car (and myself)  faster.  
Going into the final night of the season, I was 12th in points (20-26 cars every night) at one of the nation's top tracks.  We didn't qualify as well as hoped and lost a few points there.  We were fast for the feature and were picking cars off left and right.  I finished ahead of both guys that were close to me in points, going into the night, but they out qualified me and I ended the season 14th.  Not exactly what I had expected but still respectable.
Not too long ago, Dale Earnhardt Jr was featured on CBS and had written a letter to his 16 year old self, one part of the story really stuck out to me.  He said not to be "so deathly frightened of potential failure that you're not going to realize just how much fun you are really having".  I find this to be incredibly true.  It's hard not to get wrapped up in the points and it is very easy to forget the real reason that you are out there racing your heart out, and, that you are having an incredible time. I wouldn't trade any of the hard work, blood, sweat, or tears that I have invested into my racing career for anything.
The "off season" will be almost as busy as the racing season.  I have been invited to attend the 10th Annual Women in the Winners Circle Awards Celebration in Indianapolis this December.  This event honors the accomplishments of women in racing and provides visibility and networking opportunities with industry leaders.  This will be my second year attending and it is such an honor to be invited.  I will also be busy in the garage tearing my car apart and rebuilding it with updated front end, newly rebuilt engine,  and a new body.
Thanks again to all who helped me this season; my great sponsors: Black Stallion Supperclub, 2nd Street Depot, Mobilecrete, Leos Upper Dells Bar,   Bryan Roach, Race4Girls.com, Race Chix Gear,  all the people who attended my fundraisers.  Also a huge thank you to my volunteer crew of Megan Rhoads, Bryan Roach, Dan Kranz, Rob Grave, Monte Knoll, AJ Rhoads, Ed & Peggy Mays. I definately couldn't do it without you.   This season marked my 14th year in racing, looking back I remember a lot of great times which makes it exciting to look forward to my 15th  in this great sport !
Related Articles
Share
About Author