Courtesy of BrainerdDispatch.com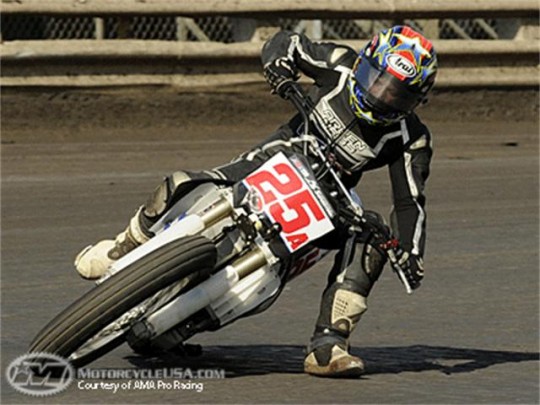 In a sport that has never had a female winner, 20-year-old Shayna Texter has broken that drought after her battle at the Knoxville Raceway in Iowa.
Coming from the seventh position, Texter worked her way through the best in the sport to victory Sept. 10 in the AMA Pro Racing Grand National Championship event.
In a male-dominated sport, AMA Pro Flat Track Racing has two top drivers who are fast female motorcycle racers, Texter and Nichole Cheza. These two stars are heading to North Central Speedway in Barrows for the Grand National Championship event Sept. 24, the only time AMA Pro Racing Flat Track comes to Minnesota in 2011.
As the points battles heat up in the Harley-Davidson Insurance-Expert Twins and MotorcycleSuperstore.com Pro Singles, round 18 of 20 will be an important stop. As AMA Pro Racing rolls into Paul Bunyan country, the Expert Twins season points are too close to call with "Jamm'in" Jared Mees leading "Slamm'in" Sammy Halbert by four and defending champion Jersey-Jake Johnson by five.
The race includes the fastest Harley-Davidson XR750s, 650 Ninja Kawasakis, Ducati, Suzuki, KTM and Triumph motorcycles in the Expert Twins. The best in the world support class hosts MX based DTX 450cc machines from Honda, Yamaha, Suzuki, KTM and Husqvarna.
The international field of the world's best flat-track racers will battle on the D-shaped one-half mile banked clay at NCS.
Brainerd International Raceway and the Central Road Racing Association will host their last major event of the season with the "Worldwide Machining and Welding 5-Hour Endurance Race" Sept. 25.
NCS is offering free camping with showers.
For more information contact KT Torbert at racencs.net.
Related Articles
Share
About Author