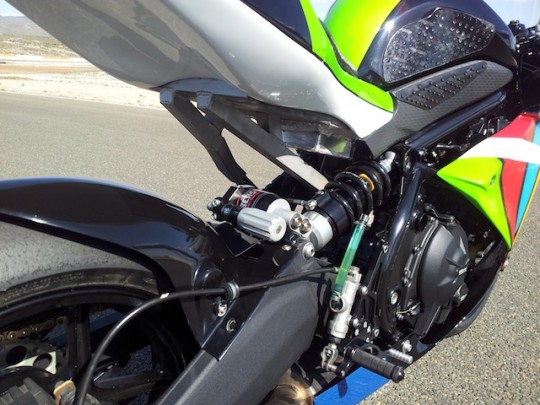 Costello used the Racedays track time to shakedown the brand new bespoke Wilbers suspension and latest engine work on her Supertwin, in preparation for the busy 2012 road race season that lies ahead.
Accompanying Maria on the Spanish trip was crew chief Tim McGivern and suspension guru Paul von Mensenkampff from VMtek Suspensions, suppliers of Wilbers products.
Paul commented:
"We have fitted a Wilbers 643QS shock to the rear of the Supertwin. This shock features rebound damping, both high and low speed compression damping, a ride height adjuster and a hydraulic preload adjuster. It's a custom shock, as are all Wilbers shocks, which has been sprung and valved specifically for Maria's weight and usage. Maria is also using Kawasaki ZX-6R forks that are sprung and valved to Wilbers specifications. Having this adjustability helped us greatly when setting up trackside. We were able to adjust the geometry and damping with ease. Our adjustments worked very well and Maria's lap times reflected this fact. It was great to see her constantly improve. I'm looking forward to supporting Maria throughout the 2012 season.
Crew chief Tim McGivern added:
"It has been a very successful test. The bike ran impeccably and we are very pleased with the performance of the Wilbers suspension and the engine that Bob Jackson has recently refreshed. With the Supertwin class becoming so popular we won't be resting on our laurels and once the bike is back in the UK, we have some more development planned including working with Scorpion on an exhaust system and a new radiator with Radicool."
Maria also revealed a new race livery during the test, which is themed around the bike's nick-name of 'pizza race bike'. The gorgeous paintwork, recently completed by Will at 1 Off Design, will be finished off with decals produced by The Image Works and will be displayed at the Pr1mo Bournemouth Kawasaki Race Team launch *.
"It has been fantastic to kick off 2012 with three solid days of testing in Spanish sunshine. Having Paul from VMtek suspensions along ensured that we maximised on getting the most out of setting-up the Wilbers. It's so valuable as set-up time can be almost non-existent at some road race events. I'm really happy with how the bike feels, the engine felt strong and we worked well together, as a team. I can't wait to get racing and I'm especially looking forward to competing on it around the TT course. So I'd like to say huge thanks to Racedays, Tim McGivern and Paul v Mensenkampff for making this test such a success."
Maria has a full season of road races planned onboard the Supertwin including many Irish Supertwin championship rounds and the Isle of Man TT. Her first outing will be the Cookstown 100 on 27 – 28 April. But you can also see Maria, her Supertwin and the Pr1mo Bournemouth Kawasaki ZX10R she will also be racing at the TT during the Pr1mo Bournemouth Race Team launch, this Saturday the 10th March, between 12.00 – 15.00 at the Sharnbrook Hotel in Bedford. Everyone is welcome
For more information about Wilbers suspension contact Paul von Mensenkampff at VMtek Suspensions Tel: (087) 1531523 info@vmtek.ie
Follow Maria's progress via her website www.costelloracing.com, the pizza race bike blog at www.pizzaracebike.blogspot.com or follow her on Twitter @Maria Costello @TheTruckThat
Download the FREE Costello Racing 'APP' for android phones here.
2012 Sponsors: Hol-Taj, Pr1mo, European Shoe Machinery Company, Ratech Racing, Rock Oil, Draper Tools, Arai, Vmtek Suspensions, Wilbers, Pirelli, Racing Batteries, Radicool, Jap4Performance, Skidmarx, NGK, EBC, HEL, GBRacing, 1 Off Design, Knox, The Image Works, Able Labels, Alpha Powder Coatings, Daytona, Racebikebitz, Stomp, Pipercross, Christian Baker, Dallington Racquets & Fitness Club, DnG, Sparkes Management Support, Stomp, B&C, Webtech Software, Bournemouth Kawasaki, Hope&Social, Sauls of Spratton & Wiz.
Related Articles
Share
About Author