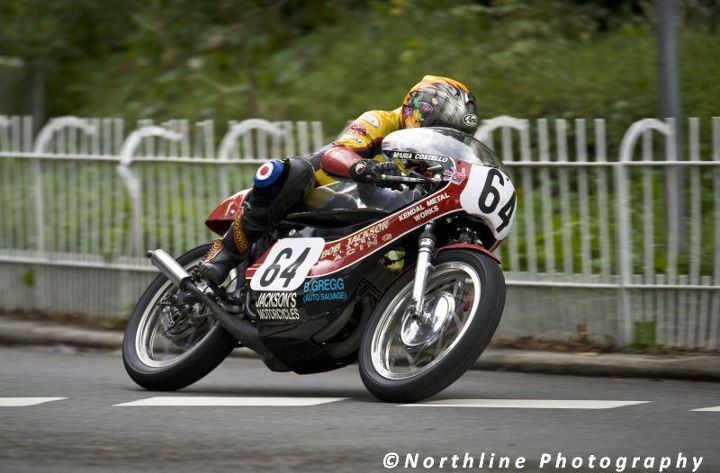 Maria Costello MBE, made history by becoming the first woman to achieve two podium finishes on the mountain course by taking third place, with a dramatic push to the finish, in Monday's Motorsport Merchandise 250cc race.
Racing a Bob Jackson Suzuki T20 two-stroke for the first time around the TT course, Maria set off from number 64 on the road and despite encountering traffic as early as on as Quarterbridge she was lying in fourth place, only 3 seconds back on third place.
Bob Jackson's strategy to pit for fuel on lap three saw Maria move in to first place with a lead of almost 9 seconds from Barry Davidson with Peter Wakefield a further 4 seconds back in third.
Costello added: 'Getting a board at Sulby Bridge with P1 on it put a massive smile on my face. I knew it would change once the others came out of their pit-stops. But it was a great strategy by Bob Jackson, especially with such wet and misty conditions the race could easily have been stopped early. '
With Costello coming into the pits to refuel at the end of lap 3, Barry Davidson moved back into the lead with a 21 second ahead of Peter Wakefield in second. The Bob Jackson team did a great pit-stop and Maria was pushed off by Graeme Crosby – Daytona 200, Imola 200, Suzuka 8 Hours, and Isle of Man TT winner, and rejoined the race in third place.
The chequered flag was out and Barry Davidson took the honours with a race time of 1:42.30.89 from Peter Wakefield (1:43.08.50) in second but there was drama unfolding for the final podium position.
Costello, who was the first woman solo competitor to achieve a podium on the mountain course in 2006, having closed the gap to 7 seconds in third place by the Bungalow, was reported to be stopping at Governors Dip.
The battery on the T20 had failed and the bike had stopped. Maria, without knowing that she had almost six minutes on the next rider in fourth place, paddled the bike out of the dip and then, with the chequered flag in view, pushed the bike to the finish line to take third place in a time of 1:47.31.88.
'I thought third place was lost but I was determined to get a finish for Bob Jackson & the team and I was sure that you could push in, so I set off towards the finish line. Bob, Allan & Brenda have worked so hard to get the bike ready for the Manx so I wanted to repay them. I consider myself physically fit but I was looking down at my legs and willing them to keep going, I was running on empty. Huge thanks to Bob Jackson for putting together a fantastic little machine, other than the battery failure she pulled like a train, had a silky smooth gear-box and never put a foot wrong. Allan for giving me more than enough fuel to finish, Brenda for all the support, Paul for help in the pit-stop, Granty for suspension set-up & Crosby for the push out the pits – we made history.'
An exhausted yet delighted Costello could hardly believe that after pushing the T20 a distance of almost 500 metres, she had still finished in third place and would be on the podium at a Manx Grand Prix for the second time in her racing career.
Maria will be competing again on Friday aboard the Steve Wheatman Team Classic Suzuki XR69 in the Manx Grand Prix Classic Superbike race.
For further editorial information or a full set of results go to www.mgpfestival.com for more information about Maria go to www.costelloracing.com
Related Articles
Share
About Author