Courtesy of MacArthurAdvertiser.com.au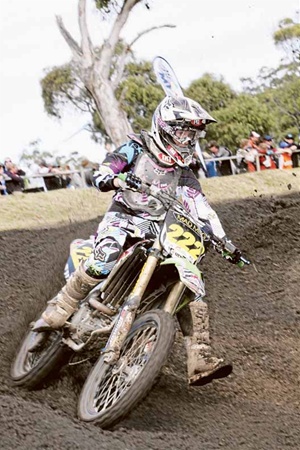 MEGHAN Rutledge has been crowned the 2010 Australian Junior Motocross Champion in the Female Lite Class 100-150cc two-stroke and 200-250cc four-stroke for the solo 13 to under-16 years category. 
The 15-year-old won each of her five races in the female class to win overall and achieve her third straight Australian Championship.
Meghan also competed with the boys earlier in the event, in the 13 to 14-years 250cc four- stroke class and was the only female.
"I'm used to racing against the boys," Meghan said.
"Since there's a girls' class now most of the other girls just compete in their class, I still like competing against the boys because there's more competition."
She described winning her third title as "awesome" and said that it took a lot of hard work to get the win.
"I was training really hard because it was my last year as a junior. I turn senior next year.
"I have conditioning training every day but I'm only on the bike once a week and nearly every weekend."
Meghan's success has brought with it more attention.
She was interviewed by NBN News, was interviewed by Transmoto magazine and Australian Dirt Bike magazine.
"It's a big change, compared to what I'm used to, I've done interviews before but nothing like that amount," she said.
Meghan has lots of ambition for her career in motocross.
"I want to become female world champion, that's my long-term goal," she said.
"I'm planning to go to America next year and try out for the AMA world women's qualifiers.
"I'd like to become world champion within two years."
Meghan has great support from her coach.
"I would like to thank Greg Moss from the Moss Institute," she said.
"He is a great coach, mentor and mate. Greg is like another dad; he takes care of me and helps me with everything to keep me on track with my riding."
Coming up next for Meghan will be a trip around Australia.
"Next I have the the Super X Junior Development, we'll go to Newcastle, Launceston, Brisbane, Sydney and Canberra. I've never been to Tasmania before so I'll be looking forward to Launceston."
Related Articles
Share
About Author