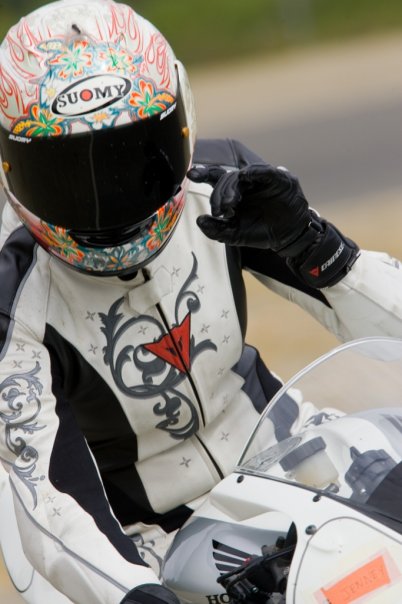 I've written this first sentence what seems like a million times and then I delete it. The second sentence followed the same pattern…. so I'm just going to "vomit" all of it out so that I can get over my first blog. Doing anything for the first time is the hardest so I know it will get easier as time goes on.
My name is Jenny Besaw and I'm currently racing my 2007 Honda CBR 600RR with the Oregon Motorcycle Road Racing Association (OMRRA). I was a late bloomer and swung my leg over a bike at the age of 24. Within a couple months I ended up purchasing my first bike which was a 2004 Honda CBR 1000RR. I spent a little under a year riding the streets before I made it out to the track as a spectator. I don't remember to much about that day but I remember walking up to the grandstands and the first thing I noticed was a female racer in her leathers with the name "Rimes" written on the back. This lady not only inspired me to ride because I thought to myself, "If she can do it, I can do it". I was only able to watch her do a few laps before the day had ended but ever since then I haven't looked back.
I was hesitant to get out on the track with the boys so I signed up for an all women's track day in 2005. I asked a friend to drive my car so that I could have a gas can and cooler available while I rode my bike. This was a day that will forever change my life…. take a peek at the pictures to see how "green" I was at riding .
After a year of track riding I decided to take my hand at racing. I applied for my novice license with the Washington Motorcycle Road Racing Association (WMRRA) and competed in my first race in 2006. I only raced 1 – 2 times a year as it was mainly just for fun. It wasn't until 2010 that my goals had changed. I was mentally ready and wanted to become more competitive in the sport. I ended 2011 with the following finishes – (2) 1st place, (3) 2nd place and a 3rd place finish. I applied for an expert license through OMRRA at the end of this year and my application was accepted.
Next year will be my first year competing as an expert and I plan on racing in the 600 supersport, 600 superbike and super team races. If you'd like to stay up-to-date with my racing feel free to check out www.facebook.com/jennybesawracing or check back on FRN for a race report during the season.
Hopefully you ladies (and guys) made it through my first blog and haven't fallen asleep. I have additional news to share… lets just say I picked up a wonderful sponsor who gave me a chance of a lifetime. The company starts with a G and ends with alfer!
PS – A special Thank You to Amber Rimes.
Related Articles
Share
About Author