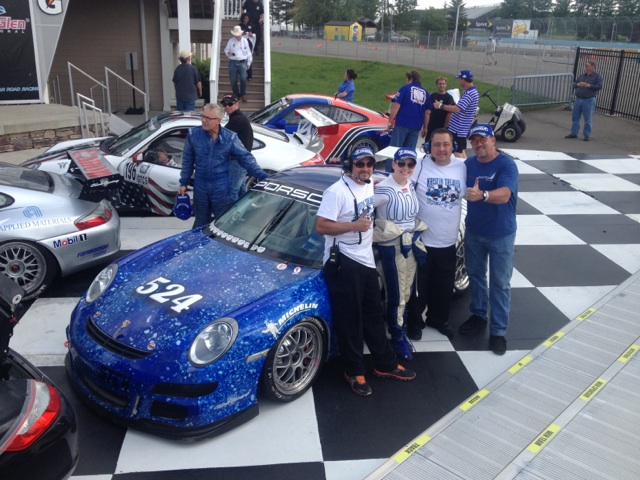 There are 3 types of male drivers. Type 1: men who like and respect female drivers. Type 2: men who do not like female drivers, but learn to like them and/or respect them. And Type 3: men who will never like or respect female drivers. I have met plenty of Type 1 and Type 2 male racers. Luckily, I have never come across a Type 3 male driver in person. If I ever do, it will not be pretty.
The Type 1 male driver is the most pleasant to meet. Case in point, Andrew Davis. Andrew is a driver in the United SportsCar Championship. I first met him in 2013 at a Porsche Club of America (PCA) race at Watkins Glen International. He was there coaching for Kelly-Moss at the time and offered up some friendly advice. He is a big proponent of women drivers and believes that there is no disadvantage as a woman competing in racing other than it being a bit of a "boys club."
In contrast, the Type 2 male driver is a little annoying at first…ok…very annoying at first, but can be charming once you win him over. Take, "Speedy Steve" for instance. I first met Speedy Steve at a PCA race at MotorSport Ranch in Cresson, Texas. We were staying at the same hotel and both of us were enjoying the complimentary pseudo eggs and cold cereal the morning before qualifying. He casually mentioned that I should "stay out of his way." Little did he know, the day prior was my first day at that track; I was still "mastering" the line. Boy was he surprised when I beat him in the race; not that it mattered, we were not even in the same class. Fast forward to a year later, I come across Speedy Steve at Texas World Speedway. Again, another new track for me to learn. This time he knew I was a fast learner. He allegedly told another driver not to let me follow him because I would pick up the line faster. Again, not that it mattered because we were not in the same class. Later on, he graced me with his presence long enough for him to call my driving "powder puff." Which he claims to this day is a compliment, an odd one if it is… Now to Octoberfast at Hallett Motor Racing Circuit. Speedy Steve and I were in the same class as he had upgraded to a GTC4 car. We went toe to toe in two points races. I had out qualified him for pole position. But as another driver humorously described it, a "burglary" took place during the race. Speedy Steve almost wiped out in turn 2, forcing me nearly off track, but he saved it in time to take the lead. To my dismay, Speedy Steve won Points Race 1. The next race, I was bound and determined not to let my nemesis beat me. He had belittled me, he had egged me on, and now was the time to show him that I was not a weak, powder puff driver. I am in the pole position, the green flag drops, he leaps out ahead, and I am right on his tail. Only inches separate us for laps… Then, in turn 2, the same turn the aforementioned "burglary" took place, Speedy Steve makes a mistake. I make my move on the following turn and take the lead. I won Points Race 2, but more importantly I won Speedy Steve's respect. Recently, I ran into Speedy Steve at a PCA event at Road Atlanta. We had a very pleasant time chatting about our racing endeavors. We traded battle stories and had a good chuckle. So…once you win the Type 2 male driver over, they can be one of the most fun guys to kick the proverbial tire with. I was shocked days after my most recent Speedy Steve encounter to receive a text message from him complimenting me on my driving and how I showed him the line through turn 4. Oh, the irony!
Lastly, I have never met a Type 3 male driver and I hope that I never do. If there are any still in existence, they are probably vestiges of an era long ago. I will not kid myself, racing is still very much a "boys club." But, once you prove yourself to these guys, they accept you as one of their own. I am proud to say I am "one of the guys." Most of them do not treat me any different…other than complimenting me on how pretty my eyes are when my visor is up. Some things will never change.
By: Kristin Treager, 2013 PCA GTC4 National Champion
Related Articles
Share
About Author