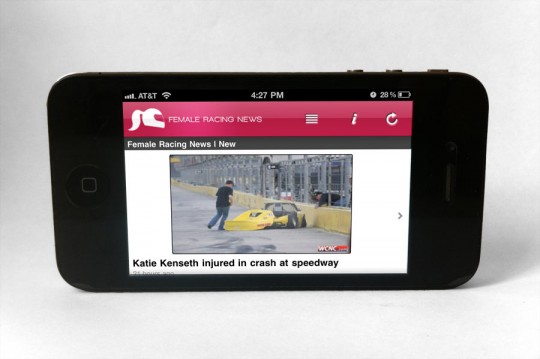 We can't tell you all how excited we are to bring this announcement to you! In conjunction with the new website layout and design, Studio Rhoad has worked along side FRN to bring you, the reader, another way to consume articles from the site; a mobile app. Its safe to say that the majority of us spend a great deal of time on our phones. Whether its on Twitter, Facebook or simply browsing the web. Everything is going mobile these days. So it was only natural for us to bring that ease of use to you guys.  That said, here's how you can get your hands on the Free FRN mobile app.
Installing the FRN Mobile App
First and foremost, this app is available for iPhone, Android and Windows Mobile. Sorry, Blackberry owners. We still love you.
If you have any of those three devices, then carry on to step one.
To start, simply go to the following URL from your mobile
http://mippin.com/app/femaleracingnews
Or you can scan the QR code below to be taken directly to the app.

As that link loads on your phone, you will be prompted with the following screen. Tap on the arrow below the dialogue box.

Now tap on "Add To Homescreen"

This step is optional, however, I chose to rename the app to "FRN" and hit "Add" in the upper right hand corner.

 The app will download and install.
You should now see the "FRN" app icon on your homescreen.

All done!
App Features
Now that you've successfully downloaded and installed the app. Lets get into what it does exactly.
For the FRN app, we decided to keep it as simple as possible. So we set it up to pull in not only the articles from the main website, but also all the recent posts from the FRN Facebook page. Here's a few more screenshots to help you navigate the app.
When you first open the app, this is the screen you'll see. Its divided into two sections. Website posts on the top and Facebook posts on the bottom.

The icon in the bottom-left of the screen allows you to choose between the two feeds. Upon choosing one, it will load all the most recent articles/posts from that particular feed.

From there you can scroll through the articles by hitting the arrows in the bottom-right of the screen.

Our favorite part is the ability for you to share your favorite articles via Twitter, Facebook and email. This screen can be seen at the bottom of each article/post.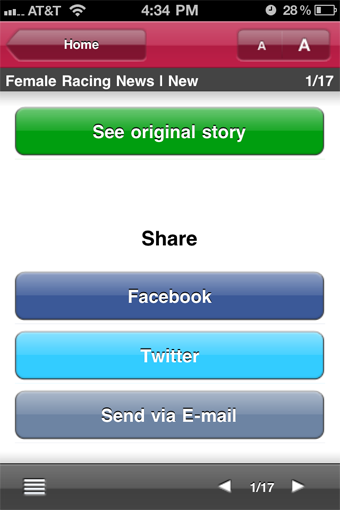 There you have it, folks! We hope you enjoy the new feature. If at any time you run into problems or simply need help installing the app, feel free to leave a comment below.
Related Articles
Share
About Author