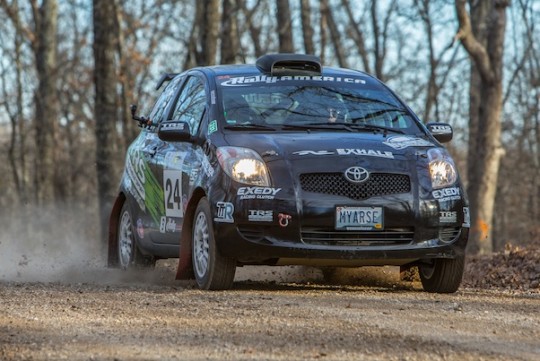 Rally driver Tracey Gardiner and co-driver Tabitha Lohr will participate in the fourth round of the Rally America National Championship, Susquehannock Trail Performance Rally (STPR) on May 30-31 in Wellsboro, PA.
Tracey and Tabitha will commandeer their Toyota Yaris in the B-SPEC category as the only all-female team competing in this national event. The team recently finished second in class at February's Rally in the 100 Acre Wood, which was the first event finish for the team this year. Rally America allows teams to drop two events from a team's season points totals, and Tracey will have used these two drops after she skipped the Oregon Trail Rally. Tracey and Tabitha will now need a finish at STPR to attempt to close the points gap on B-SPEC's driver leader James Robinson, and finish strongly in the remaining events on the national calendar.
Hailing from North Providence R.I., Tracey is a mom, successful rally driver and considered a female expert in the world of motoring, delivering hands on workshops on defensive driving, teamwork, leadership and personal development. Tracey is a qualified driving instructor in both Rhode Island and Colorado, daily testing the abilities necessary to hold a driver's license for public roads.
Though first impressions might be of a quiet reserved mom, her reputation for bringing people beyond their perceived limitations grows every day. Her unique and inspirational story shows there is no limit to what you can achieve at any stage in your life with the right attitude, determination, focus and commitment. Maintaining femininity and grace in the motorsport world, Tracey and Tabitha have not let adversity or obstacles get in the way of their dreams. "Dedication, persistence and hard work will take you incredibly far," says Tracey, "Never let negativity or gender get in the way."
The STPR Rally is the oldest race on the schedule running since 1977, and one of the fastest rallies in North America. Top names like Ken Block will compete alongside top international rally driver David Higgins, with many home town regional drivers on the very same stages. While NASCAR might be the descendant of old "whiskey running days," cars exceeding 100 miles per hour through densely woods on slippery, fast and extremely dangerous clay and gravel roads is guaranteed to bring back the excitement of those bygone days.
All the STPR Rally action is scheduled to be televised on the NBC Sports Network on June 28th at 6pm EDT.
About TagRallySport:
TagRallySport is a woman-owned, new-age motor sports marketing company with locations in R.I. and Colorado.
- See more at: http://rally-america.com/news/entry/national-all-female-rally-team-prepares-for-stpr-rally
Related Articles
Share
About Author