Superstar Rider has become the Face of the Deaf Community in Sports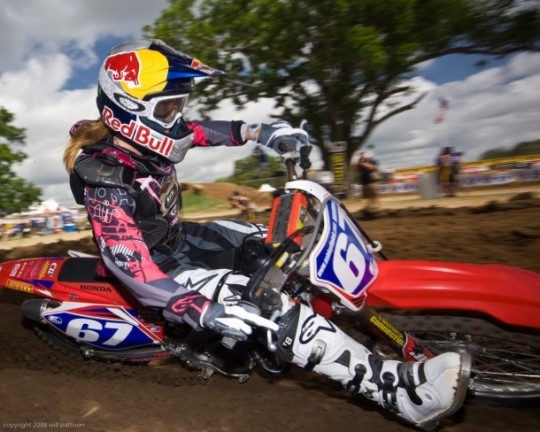 Since joining the professional ranks of Women's Motocross in 2008, Florida's Ashley Fiolek has quickly become a household name and has helped give the female demographic of one of the fastest growing sports in America some well-deserved attention. Thanks to her infectious smile, gifted abilities on a motorcycle, and her determination to turn her inability to hear into an advantage, Fiolek has garnered national exposure.
In three years of competition in the MotorcycleUSA.com Women's Motocross Championship, Fiolek has captured two titles and became the first woman in American Motocross to receive a factory ride as a member of American Honda. She has won %50 of the races she's competed in with 11 wins in 22 starts and also boasts two X Games gold medals.
With her success and exposure on television shows like Last Call with Carson Daly and ESPN's E:60 as well as features in the pages of the New York Times and ESPN The Magazine, Fiolek has used her popularity to become a leader in the deaf community. She regularly gives back by hosting events at local schools and community centers and is proof that dreams can come true no matter what the circumstances.
Thanks to her inspirational story and philanthropic work, Fiolek is being honored at the annual Courage in Sports Awards alongside former USC football star Stafon Johnson, NBA Hall of Famer and Mayor of Detroit Dave Bing, and a collection of daredevil skydivers known as Wingsuit Pilots. The Courage in Sports Awards recognizes athletes who demonstrate extraordinary courage, spirit, and perseverance in the face of adversity in order to succeed in their chosen sport. The show airs exclusively on CBS Sports this Sunday, November 14 at 5 p.m. ET.
For fan and racing information on the Lucas Oil AMA Pro Motocross Championship, log on to http://www.allisports.com/motocross.
For more information about the 2011 Lucas Oil AMA Pro Motocross Championship, please contact media coordinator Brandon Short via email at brandon@mxsports.com or by telephone at (949) 365-5750.
About the Lucas Oil AMA Pro Motocross Championship
The Lucas Oil AMA Pro Motocross Championship is the world's most prestigious motocross series. The Series is managed and produced by MX Sports Pro Racing, whose mission is to raise awareness of motocross racing through the promotion of professional championship racing events nationwide.
The series is also produced in conjunction with Alli, the Alliance of Action Sports, a global business that encompasses national and international action sports events, multimedia production and a consumer-based lifestyle brand.
Alli is owned by NBC Sports and MTV Networks and represents a vast network of athletes, fans, brands and properties.
The Lucas Oil AMA Pro Motocross series is sanctioned by AMA Pro Racing, the premier professional motorcycle racing organization in North America. AMA Pro Racing operates a full schedule of events and championships across every spectrum of motorcycle competition.
Related Articles
Share
About Author