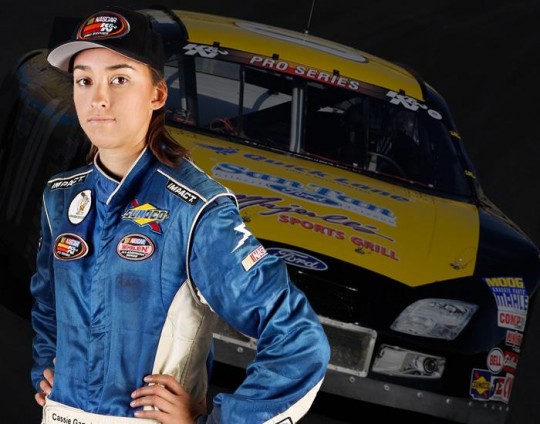 When you dream, you want to be successful.  You are also taught that if you work hard enough and have the drive, you will get there.  For Cassie Gannis, her dreams are no different and she shows it.  Gannis is part of NASCAR's K&N Pro West Series but also compete in Super Late Model competition and even on the dirt in Tucson, AZ.
To become a great racer, one must have the experience and determination to get to the top.  Gannis' goal for this year is just that.  "My goal this year is mainly to gain experience in any series," Gannis said.  "The next time I am running the West tour is in November at PIR, and run the Super Late Model Series at the Las Vegas Bullring, so it's about getting the experience."  That also goes into her future goals to one day run in the Sprint Cup Series, but as well as get the experience to be a better racer for the future.
Gannis' love for racing came early, with her dad competing.  "My dad was a racer and I would always be with him learning about how to race," Gannis said.  "I loved being around him and watching him work and then I could work on the cars and that is how I got my start."  While her dad got her into racing, another person in her family was the person she looked up to.  Her sister was always the person Gannis wanted to be around and she looked up to her when she was younger.
An intriguing thing about Gannis is with all the racing she does, she maintains a balance with regular life.  "It is a challenge to balance it, with racing, the media to having time to yourself and your friends," Gannis said.  Part of that balancing act is graduating from college and being a veterinarian technician, which is another future goal of hers.  "I have a big love for animals and animals love me.  My main goal is to become a veterinarian, and being a vet technician is the first step to that," Gannis said.
There are two causes dear to Gannis, the 101 Days of Summer Military Tour and the Don't Text and Drive Campaign.  For the 101 Days tour, Gannis takes trips to various military bases across the southwest.  "We discuss safety to Marines and sometimes the Navy," Gannis said.  "The focus is safety on the highways, telling them don't text and drive, as well as boating safety."  The Don't Text and Drive campaign is one that is involves talking to school students, especially in high school, about the dangers of texting while driving.  "I have seen stories in newspapers and online about someone seriously injured or dying from a person texting while driving," Gannis said.  "The purpose of this campaign is to tell kids to stop texting while driving and wait until you are home to do it."
Cassie Gannis has a lot going on in her life.  From racing, to graduating college, even speaking on military bases and students she has kept a great balance on everything.  For her racing career she has proven to be one filled with potential and with the experience, she will find herself at the top.
Related Articles
Share
About Author