Courtesy of TheBleacherReport.com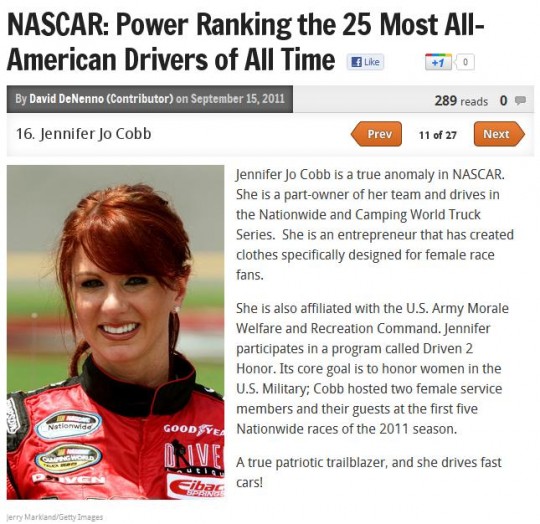 Jennifer Jo Cobb has been honored by TheBleacherReport.com naming her #16 in their "NASCAR: Power Ranking the Most All-American Drivers of All Time" article. We are pumped for Jen as we know how hard her and her team work each weekend to get the car and truck race ready. This past weekend in Chicago Jen was double duty trying to make the field with both her #10 Ford F150 in the Camping World Truck Series and her #13 Dodge Challenger in the Nationwide Series races. Having to qualify into both races due to the number of cars proves challenging to lower budget teams. Jen's crew was able to get her into the Truck series race but was a little short in the NW series.
If you ever have the opportunity to meet Jen and her crew take our advise and have a chat with them. Jen's positive attitude is contagious and her crew are the nicest group of guys and gals (yes women crew!

) you will ever meet. Jen has a "never say die" attitude and is always looking on the brighter side of things. This has help her get to where she is today. Always pushing forward and doing whatever needs to happen to achieve her dream.
To support her racing efforts her sponsor for the last few races Hip Chix Fundraisers has set up a special fundraiser for her and her team. Anything purchased from the site 50% of the cost goes to JJCR! Get your Christmas shopping done early and help support the team!
Related Articles
Share
About Author