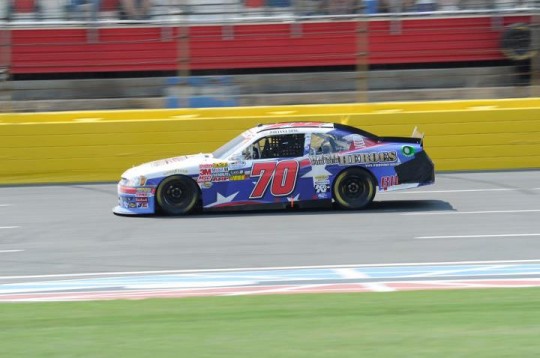 Johanna Long will be back in the seat of the No. 70 ML Motorsports Chevrolet this Friday, July 6 for the Subway Jalapeno 250 powered by Coca-Cola. The NASCAR Nationwide Series event will be aired live on ESPN, with race coverage beginning at 7:00 pm EST. The event can also be heard live on MRN Radio as well as Sirius Satellite Radio, channel 90.
Daytona International Speedway – Long had a strong NASCAR Nationwide Series debut with ML Motorsports at Daytona International Speedway back in February. After running competitively in the top-15 for the majority of the race, Long got caught up in a late-race incident with nowhere to go. Although she had damage to the No. 70 Foretravel Motorcoach Chevrolet, she was able to continue the race and register a 21st-place finish.
Wish For Our Heroes - The ML Motorsports team is pleased to have Wish For Our Heroes back on board at Daytona International Speedway. Wish For Our Heroes was first launched in November 2009 and is dedicated to assisting the men and women of the United States active-duty military. The organization began with a goal of providing one wish for every deserving military member. The ML Motorsports team will grant a wish by having troops accompany them to the race on Friday. For more information on Wish for Our Heroes, you can visit their website at www.wishforourheroes.org.
Portable Shade - The No. 70 Chevrolet will carry the Portable Shade decal for the remainder of the season. Portable Shade is located in Cocoa, Florida and is a supplier of outdoor branded foldaway shade products. For more information about Portable Shade, visit www.Portable-Shade.com.
This week's Chevrolet Impala – The No. 70 Foretravel Motorcoach team will bring chassis No. 58 to Friday night's event. Chassis No. 58 was last utilized on May 5 at Talladega Superspeedway where the team was running solidly in the top-15 position until they encountered engine overheating issues, which ended their race early.
Last Race Recap – Long and the ML Motorsports team are eager to race back-to-back weekends after coming off of a strong run at Kentucky Speedway last Friday. Long faced adversity early in the race as she took a spin during her qualifying effort sending her and the team to the rear of the field for the start of the 200-lap event. After starting the field in the 42nd position, Long raced smart and competitively throughout the race while registering another top-20 finish.
Meet Johanna – Long will be participating in the NASCAR Nationwide Series driver autograph session this Friday, July 6 from 4:30-5:30 pm ET; located in the Sprint FanZone.
Johanna on Driving at Daytona International Speedway - "I can't wait to get back in the seat at Daytona International Speedway," says Long. "I made my Nationwide Series debut here in my home town state back in February, which was really special. We had a strong run going before we got caught up in a late-race incident with nowhere to go. Hopefully we can have another competitive run and bring home a solid finish for my Florida fans and the ML Motorsports team."
Related Articles
Share
About Author