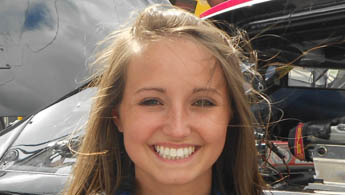 (TOLEDO, Ohio – May 14, 2011) – Billy Venturini, general manager of Venturini Motorsports, claims to have the "best female talent in the country" racing in his car this weekend. This afternoon at Toledo Speedway, Kenzie Ruston made her first step toward turning that assessment into truth.
Ruston drove a best lap of 16.411 seconds (109.683 mph) to lead the opening practice for tomorrow's Menards 200 presented by Federated Car Care, topping NASCAR Camping World Truck Series points leader Matt Crafton and ARCA Racing Series presented by Menards points leader Ty Dillon, who finished second and third, respectively.
"This is definitely not expected," Ruston said, surprised. "I knew we were fast. When we came here and tested, we were about the same that we are now, but I guess I thought everybody else would be a little bit quicker. It's very overwhelming for my first ARCA race, but I'm excited. Billy and I are working on the car and getting it just a tad better."
On one of her 24 laps, the 19-year-old Ruston had to use every bit of the race track in Turn 2. She scraped the wall and found minor damage in the right rear corner of her No. 25 Toyota.
"I just got a little bit tight and then let off the gas and the wall just kind of sucked me in," she said. "That was my mistake; hopefully, we can keep it in one piece."
Venturini, who believes Ruston can become the first female driver to win in the ARCA Racing Series, was happy after the first 55 minutes of practice.
"I'm very pleased," he said. "I knew she'd come here and be a top-five car. Top of the board, that's awesome. She's the best female talent there is in the country, and we've shown it here pretty quickly. She's going to excel this year. I expect her to do lots of good things, and our goal is to have her be the first woman in Victory Lane in the ARCA Racing Series."
Dakoda Armstrong finished the session fourth, and Tom Hessert was fifth. Tim George Jr., John Stancill, Grant Enfinger, Frank Kimmel, and Matt Merrell rounded out the top 10.
Related Articles
Share
About Author