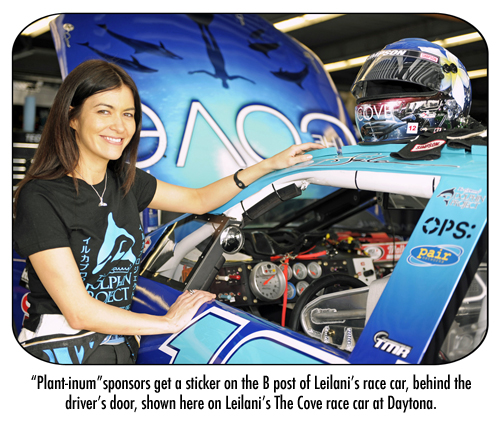 (February 19, 2013) Environmental activist and race car driver Leilani Münter has partnered with 1% for the Planet, VegNews Magazine, and Wildlife Works to get a "VegNation" race car on the track, encouraging millions of race fans to adopt a more plant-based diet.
While most people associate their carbon footprint with their car, the United Nations found that more greenhouse gas emissions come from animal agriculture than from all the world's planes, trains, ships, cars and trucks combined. The goal of the VegNation race car is to show America that a plant based diet is a win-win for human health, animals, and our planet.
Leilani is actively seeking partners who support the ideas behind a more plant based diet in the food and beverage industry, environmental organizations, animal advocacy groups and health education organizations – to join them in this historic VegNation awareness campaign. Once fully-funded, Leilani will drive the car in a major 2013 ARCA race to be televised on SPEED Channel, available in 80 million North American homes. 
"By adopting a more plant-based diet, we can each help curb climate change while also doing something good for our health, for animals, and for our taste buds," said Leilani. "With more meat-free meals than ever being eaten today, we're on the right track toward a more sustainable diet."
1% for the Planet (1%FTP), a global network of businesses committed to giving at least 1% of their sales to environmental causes, is hosting aweb page at onepercentfortheplanet.org/leilani seeking tax deductible donations that 1%FTP will use to sponsor the VegNation race car. Leilani is an Ambassador for 1%FTP.
"1% for the Planet is all about inspiring business leaders, consumers and activists to support important environmental work," said 1% for the Planet CEO Terry Kellogg. "Leilani's concept is a great way to spread that message and engage the public on ways to solve key environmental issues."
Wildlife Works, based in Mill Valley, CA is also a partner in the project; the organization will be donating 100% of the profits from its Kukanga line to the VegNation race car.
"We are honored to be supporting Leilani and her VegNation race car," said Joyce Hu, Wildlife Works' creative director. "She's a brave, sexy advocate for the earth – our kind of girl!"
VegNews Magazine, based out of San Francisco, CA, has also come on board as a partner of Leilani and her VegNation race car.
"A vegan-themed race car that educates NASCAR fans about the global-warming effects of a meat-based diet deserves the full-blown support of the green community," said VegNews founder and publisher Joseph Connelly. "Leilani has shown that she is the real deal, both walking — and driving — her talk. She's a committed vegan, a dedicated environmental activist, and unafraid to take risks both on and off the track. VegNews is honored to be part of her crew."
Individuals can show their support for the VegNation race car bymaking a direct donation or by purchasing from the Kukhanga clothing line.
Contact information:
Gaelan Brown, 802-496-5408, Gaelan@OnePercentforthePlanet.org
About Leilani
Leilani Münter is a biology-graduate-turned-race-car-driver and environmental leader. She has been named the world's #1 Eco Athlete by Discovery's Planet Green, is a recipient of ELLE Magazine's 2012 Genius Award, has been featured on the front page of CNN, in the New York Times, and was named as one of the top ten female race car drivers in the world by Sports Illustrated. She is the fourth woman in history to race in the Indy Pro Series, holds the record for the highest finish for a female stock car driver at Texas Motor Speedway (4th in 2006), and was the first woman in the 45 year history to qualify for the Bettenhausen Classic late model race. An almost-lifelong vegetarian, and now vegan, Leilani's motto is "Never underestimate a vegetarian hippie chick with a race car." On the web at carbonfreegirl.com
About 1% for the Planet
Started in 2002 by Yvon Chouinard, founder of Patagonia, and Craig Mathews, owner of Blue Ribbon Files, 1% for the Planet is a platform of credibility and engagement for environmentally conscious brands that are truly committed to making a positive impact with their business. This global movement of more than 1000 member companies in 45 countries donate one percent of annual sales directly to approved environmental programs worldwide, and new members join on a daily basis. 1%FTP annually reviews financial records to certify that member businesses meet their commitment. On the web at onepercentfortheplanet.org
About VegNews
The premier vegan lifestyle magazine, VegNews serves up the latest in news, food, travel, politics, and buzz to this growing segment. Named one of the "Best 50 Magazines" by the Chicago Tribune (#18) and the country's "Best Lifestyle Magazine" in 2008, 2009, and 2010, VegNews is read by more than 240,000 people in 38 countries. In addition to it's flagship publication, the vegetarian media company also produces the award-winning VegNews.com along with a collection of popular e-newsletters, cookbooks, events, and vacations. On the web at vegnews.com
About Wildlife Works
Wildlife Works is the world's leading REDD project development and management company with a unique approach to applying innovative market based solutions to the conservation of biodiversity. The company established a successful model that uses the emerging marketplace for REDD carbon offsets as a sustainable and scalable funding mechanism for biodiverse forest protection and to help local landowners in the developing world monetize their forest and biodiversity assets whether they are indigenous peoples, governments, communities, ownership groups or private individuals. Wildlife Works' flagship "Kasigau Corridor REDD project" in SE Kenya was the first REDD project to achieve validation, verification, and issuance of REDD carbon credits under both the Verified Carbon Standard (VCS), and the Climate, Community and Biodiversity Standard (CCB). On the web atwildlifeworks.com
Related Articles
Share
About Author