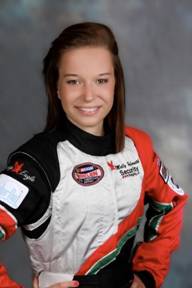 High school senior locks up title on championship night at Evergreen Speedway.
17 year old race car driver Molly Helmuth became the youngest female to win the Nascar Rookie of the Year award for the state of Washington racing in the Super Late Model series at Evergreen Speedway on Saturday night.
"We started the season with a brand new race crew but kept our goals high. This is what we were striving for all season and we got it!  Helmuth stated"
This was such an amazing and tough year. I couldn't ask for a better team. crew chief   Greg Bennett, mechanics Doug Bennett and Rich Palmer and tire man Toby Jenkins made this all possible.
Helmuth raced in 11 of the 12 races held at Evergreen Speedway this year and finished 8th in points out of 35 drivers. She finished the season with 8 top ten finishes and got her first podium finishing 3rd on September 1st.
"With an average of 20 plus cars entering each event and to finish the season as rookie of the year against some of the best drivers in the NW, now that's a great accomplishment!" said Molly".
Winning the Washington state rookie of the year will get Molly an invite to the Nascar Whelen awards dinner to be held in North Carolina in December and she looks forward to be in the company of Doug & Traci Hobbs owners of Evergreen Speedway.
Related Articles
Share
About Author