Courtesy of NASCAR.com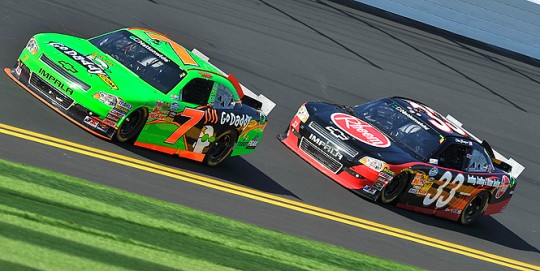 By Jill Erwin, NASCAR.COM
When Danica Patrick led a lap Saturday at Daytona International Speedway, she became the first woman in any of NASCAR's top touring series to do so at the historic track.
But she was there partly because those before her led laps nearly 25 years ago.
Patrick is the current standard-bearer for women in the Nationwide Series, grabbing the majority of the headlines and attention. But women have had roller-coaster experiences in NASCAR's second-tier series since the early '80s.
Diane Teel started it at Martinsville in 1982, the first woman to race in the Nationwide Series. Patty Moise became the first woman to lead a lap in the series in 1987. Shawna Robinson joined Moise through the early part of the '90s. In the 2000s, plenty of women made short forays before falling out for random reasons.
But all of them set the stage for the present … and the future.
The past
Teel was racing at Langley Speedway in Virginia when she got a call from Bill Champion, who asked her to drive his car in a Dash Series race at Atlanta in 1979. She failed to make the field, qualifying 44th out of 58 cars, but said she will always remember the words of encouragement she received from one of racing's biggest names.
"Richard Petty and I were sitting on the back of his truck in Atlanta," Teel said. "I told him 'It's like I have the plague. No one wants to talk to me.' And he said, 'Don't worry about that, they've just forgot where they started out. Every one of them started just like you did.' I will thank that man to the end of my life."
From there, Teel climbed the ranks and made her debut in what was then called the Busch Grand National Series. She finished 26th at Martinsville, and continued to race for three of the next four seasons at the in-state tracks — Martinsville, Langley, Richmond and South Boston. She made 11 starts in the series and finished in the top 10 twice — an eighth-place at Langley in May 1982 and a 10th-place finish at Martinsville in March 1983.
Dale Jarrett was one of the drivers who was very supportive of her. Teel remembered him going to bat for her against South Boston management which, he felt, wrongly took a track record away from her. They didn't win their argument, but the fact he argued meant a lot to Teel.
"I never had problems with people that had money behind them," Teel said. "The only people I really had problems with was somebody who had the same advantage and wasn't doing good with it."
Teel turned down a sponsorship deal to spend more time with family. She said she and her husband made a deal they would never sacrifice their family for the racing, and with a teenager and an 8-year-old, Teel said she wouldn't do a travel schedule.
That was in 1986. Moise made her debut in the series that same year, and led 17 laps the next season. She was the first female to lead laps, but never really understood why that mattered. She was a race car driver.
"I was constantly asked what it's like to be a woman in this sport, but I had no other basis of comparison," Moise said. "I've only been a woman. I never forgot I was a female, or expected anyone else to forget that. What I wanted was to conduct myself in a way that said racer. I wanted to be as competitive as I could possibly be for my sponsors and my team and myself. I wasn't there to be some kind of showboat."
Moise would go on to make 133 starts in 12 seasons, by far the most in the series by a woman. She had four top-10s, including one in her final season of 1998.
During that time, Shawna Robinson entered the sport. She made 52 starts in the series between 1992 and '95, then left to start a family before returning for three races in 2001 and six in '05. In 1994 at Atlanta, she earned the first, and so far only, pole by a woman. Her car overheated after 63 laps, but later that season she gained her lone top-10, a 10th-place finish at Watkins Glen in June.
"The results don't really say a lot for me," Robinson said with a laugh. "Two years in the Dash Series and I was a frontrunner, setting track records, and there were opportunities knocking at my door to move into Nationwide. I wanted to move forward and probably should have spent another year in the Dash series.
"I should have moved forward in the right situation. Instead, I was running a limited schedule, which was part of the problem. You cannot compete, I don't care how good you are, if you're only doing it sometimes against people who are doing it all the time. Let's show we are a factor, and then it's going to come to us. If you have all this hype, and then you don't perform, you're going to look like an idiot."
Others raced between 1982 and 2010 — Lisa Jackson, Debbie Lunsford, Kat Teasdale, Tina Gordon, Tammy Jo Kirk, Kim Crosby, Mara Reyes, Erin Crocker and Chrissy Wallace — but none of them had more than 15 starts.
The present
Patrick's part-time foray into the series has stirred a resurgence for female drivers. Running a partial schedule in 2010, Patrick showed improvement despite only racing when her IndyCar schedule would allow.
With a strong qualifying effort and race at Daytona, Patrick took another step in her development, but her career hasn't come easy and she wants to make sure those who are looking at joining her in the future know that up front.
"I always encourage kids to dream big and follow that dream and if it is racing, then you have to just make sure it's a real, real passion for you," Patrick said. "It's really hard, and things are going to happen that make it easier and more tempting to quit and give up, especially if you're young. Unless it's a real passion, it's not going to be very easy to have the discipline and perseverance to get through it. If it is what you want, get a long-term goal and don't force the issue and let it run its course and take the best road."
She'll be joined this season in the Nationwide ranks by Jennifer Jo Cobb, who previously has run primarily Camping World Truck Series races. She failed to qualify at Daytona in the season opener, but the 37-year-old is doing it her own way. She owns the truck she races, and recently made a trip to New York to woo a potential sponsor.
"If you have the talent to be a race car driver, you might race. If you have talent and money, you will race," Cobb said. "I don't come from money, I don't have a family friend who owns a company who can sponsor me. I'm sitting here on Madison Avenue. I'm playing the role of a bigwig executive and getting to do those nice things, but I'm also living my dream of getting to be a professional race car driver. Look at the skills I'm going to have if this ever does fall through."
The future
The women from Nationwide's past are split as to the future, although none of them want any kind of quota program for women drivers, or a specific push to bring in more females.
It must be, they do agree, an organic thing.
"I've always said it's a pyramid," Moise said. "You have to have a big base of young women racing at the lowest levels, because it's always the cream of the crop that gets to the Nationwide Series and the Cup Series and the IndyCar Series. A lot of men don't make it, as well, but there's a gazillion of them trying. You have to have a big crop of young gals trying at the grassroots level to have them reach to the top to get with the best teams and be able to get the sponsorship that they can be right there with the guys."
Teel agrees, and her granddaughter, Macy Causey, is making her way up the ranks. Now 10, Causey has been driving since she was 8. Teel didn't start until she was 24.
As drivers like Teel and Moise have set the bar, today's drivers are carrying the baton for the next generation of women. Cobb talked about her experience after being a guest on a TV show, when a young girl contacted her.
"I got the nicest e-mail from a 15-year-old girl who has been racing since she was 9," Cobb said. "She said I'm doing what she wants to be doing, and now she really looks up to me and loves my story. That's great, but it also is a bit of a responsibility. I want to make sure I do it the right way. I don't want to go pose in Playboy, because I don't want to teach young girls that's what we do."
Robinson has some advice of her own to impart.
"You have to walk through the garage with your head held up and with an attitude," she said. "Don't ever ever ever let anyone think you're feeling insecure about who you are. You're always going to be under the microscope a little more than the next guy [is] because you're always looked at. If something is good, it's better, and if something is bad, it's worse."
Moise, for one, is ready for the day when she doesn't have to talk about the subject, because it means a woman in the sport is no longer an outlier.
"I will enjoy seeing the day when there's six or eight women out there running competitively, when it's just not that big a deal," Moise said. "I don't know when that day is going to come, or if it's going to come, but I look forward to it."
Women in the Nationwide Series
| | | | | |
| --- | --- | --- | --- | --- |
|   |   |   |   |   |
| Driver | Years | Starts | Top-5s | Top-10s |
| Patty Moise | 1986-98 | 133 | 0 | 4 |
| Shawna Robinson | 1991-2005 | 61 | 0 | 1 |
| Tammy Jo Kirk | 2003 | 15 | 0 | 0 |
| Tina Gordon | 2001-04 | 14 | 0 | 1 |
| Danica Patrick | 2010 | 13 | 0 | 0 |
| Diane Teel | 1982-86 | 11 | 0 | 2 |
| Kim Crosby | 2004-06 | 10 | 0 | 0 |
| Erin Crocker | 2005-06 | 10 | 0 | 0 |
| Jennifer Jo Cobb | 2004-10 | 5 | 0 | 0 |
| Chrissy Wallace | 2010 | 2 | 0 | 0 |
| Mara Reyes | 2005 | 1 | 0 | 0 |
| Lisa Jackson | 1982 | 1 | 0 | 0 |
| Kat Teasdale | 1998 | 1 | 0 | 0 |
| Debbie Lunsford | 1989 | 1 | 0 | 0 |
Related Articles
Share
About Author