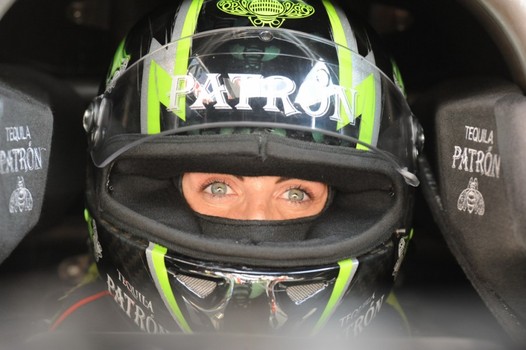 DELRAY BEACH, Fla. (February 12, 2013)— For NHRA Funny Car driver Alexis DeJoria, February 14th can't come soon enough. DeJoria, a Southern California native, will return to the Auto Club Raceway at Pomona, the legendary track where she first fell in love with the sport of drag racing. Under the direction of crew chief Tommy DeLago and co-crew chief Glen Huszar, DeJoria and the Kalitta Motorsports Tequila Patron Toyota Camry Funny Car team feel optimistic going into the 2013 NHRA Mello Yello Drag Racing Series and are looking to the 53rd Annual O'Reilly Auto Parts NHRA Winternationals presented by Super Start Batteries, the 24-race series opener, to set the tone for what is sure to be a successful second season.
Shortly after the 2012 NHRA season came to a close, it was announced that DeLago and Huszar would take over the Patron Funny Car team as crew chief and co-crew chief. The newly implemented duo wasted no time getting to work on a winning strategy with Team Patron working around the clock until Winter Warmup, the unofficial week-long test session in West Palm Beach, Fla. in mid-January. Despite the fact that it was the first time ever sending their 10,000 horsepower 2013 Toyota Camry down the track with DeLago and Huszar calling the shots, the test session was a success. According to DeLago, a world-class champion tuner who brings nearly 20 years' experience working on an NHRA team to the Patron pit, "I don't want to get ahead of ourselves and try and guess how we'll perform in Pomona, but overall testing was a success and we accomplished what we set out to do. Everything was consistent, which says a lot about this crew. I don't necessarily have the performance I want at this point, but I know over the course of the season, we'll be able to improve upon that. Right now, the most important thing is making sure the car is consistent and we're doing that, so I think we're on the right path."
Early in the 2012 season, the strategy was to have the two Kalitta Motorsports Funny Cars set up mechanically almost identically to one another, and 2013 will be no different. "The cars are fairly close to each other," says DeLago. "That takes a lot of work and communication throughout the year. Each one of us has to try different things to progress- to go quicker and faster. So far, working with Del [Worsham, driver of the Kalitta Motorsports DHL Funny Car], Nicky and Jon O [Boninfante and Oberhofer, DHL co-crew chiefs] the communication level has been very strong. As we went along in testing, the two cars kept getting closer and closer and closer to running like each other, so I think that shows pretty good promise of how good our communication level is thus far."
Funny Car pilot DeJoria, now in her sophomore season, also feels confident going into this week's kickoff event after testing showed so much promise. "I feel good about where we're at right now- Tommy and Glen are trying to establish the right baseline and then from there, focusing on making the car faster. We have a ton of brain power in our camp, and this is going to be a really great year for Team Patron. I'm not a rookie anymore; I'm taking everything I learned from my first professional season and look forward to applying it to this year. We're ready for 2013 and ready to be a strong contender in this ultra-competitive class."
Alexis DeJoria and the Kalitta Motorsports Tequila Patron Toyota Camry Funny Car team will compete this weekend, February 14th-17th, 2012, at the 53rd Annual O'Reilly Auto Parts NHRA Winternationals presented by Super Start Batteries at the Auto Club Raceway at Pomona in Pomona, Calif. Funny Car qualifying begins at 2:30 PM PST on Thursday. Immediately following the conclusion of Funny Car/Top Fuel qualifying on Thursday, DeJoria will join her Kalitta Motorsports teammates for a Tequila Patron autograph session at the Finish Line Sports Grill, located on the Auto Club Raceway premises at Gate 12.
TV Schedule
Qualifying
February 16th, 10PM- 12AM EST
ESPN2
Eliminations
February 17th, 8PM-11PM EST
ESPN2
About Alexis DeJoria
Alexis DeJoria, daughter of the famed John Paul DeJoria, co-founder of John Paul Mitchell Systems and proud owner of Tequila Patron, is a professional NHRA race car driver, competing in the nitro Funny Car class on the Kalitta Motorsports team. She is their second nitro Funny Car driver and fourth member of the team. Alexis drives a Tequila Patron-sponsored 2013 Toyota Camry. Alexis, who had all the opportunity in the world to pursue any type of career, felt strongly about following her passion, and her need for adrenaline drove her to pursue the unlikely profession of auto-racing. The determination to 'blaze her own trail' continues to drive her and push her to higher levels in male dominated sport of drag racing.
About Kalitta Motorsports
Based in Ypsilanti, Mich., Kalitta Motorsports is a Top Fuel and Funny Car drag racing team in the NHRA (National Hot Rod Association) Mello Yello Drag Racing Series. The team was founded and is owned by drag racing icon Connie "the Bounty Hunter" Kalitta. For more than 50 years, Connie has been involved in the sport as a driver, tuner, and an owner. Kalitta Motorsports is one of the most successful teams in the history of auto racing with five world championships and over 50 national event titles in five different professional drag racing sanctioning bodies since it was established by Connie in 1959.
Related Articles
Share
About Author