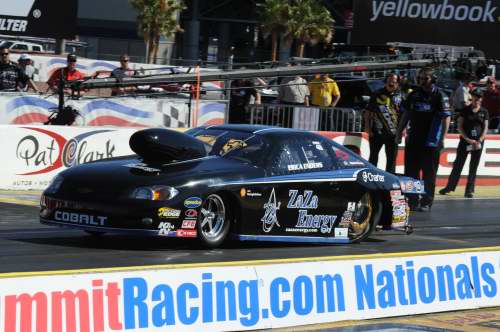 PHOENIX (Feb. 13) – Erica Enders has hit the reset button and is ready for this weekend's 28th annual NHRA Arizona Nationals at Firebird International Raceway.
Enders and her Cagnazzi Racing crew, like a lot of other Pro Stock teams, struggled with the track in the 2012 season-opener at Pomona. But Phoenix is a new race, and Enders is looking forward to getting her Chevrolet Cobalt running well in a town where she has a lot of personal history.
"Phoenix now becomes the first race of the year," Enders said. "We've got to leave the whole Pomona race in the dust. We'll go to Phoenix with a new attitude and new confidence, and that's perfect because the city means a lot to me."
Firebird is one of Enders' favorite tracks, as she's done well there in the past. Plus, the Phoenix area is home to Enders' brother and numerous other family members.
To make sure the weekend is a roaring success, Enders and her crew are spending two days this week testing at The Strip at Las Vegas Motor Speedway.
"Phoenix is like a home race for me and we really want to do well," Enders said. "My family's from there, and lot of them still live out there. We'll have a lot of people at the track with us. I look forward to having that support group around me.
"In the past, Firebird also has been pretty lucky for us. We've not won in Pro Stock there, but we've come close a number of times. It's also the first place I qualified as a professional. I look forward to this weekend."
Enders made her official Pro Stock debut at Phoenix in 2005, qualifying No. 16 but losing in the first round to future boyfriend Richie Stevens. Enders has qualified fourth or better three times at Firebird, reaching the semifinals twice.
"All my love to Gaston Kearby," Enders said. "he's the one supporting the team this year and we couldn't do it without him."
The event begins Friday with Pro Stock qualifying sessions scheduled for 1:30 and 4 p.m. Qualifying continues at 11:30 a.m. and 2 p.m. Saturday with eliminations slated for an 11 a.m. start on Sunday. ESPN2 will carry all of the action.
–30–
Contact: Lee Montgomery at 704-258-0903 or lee@go2geiger.com.
Related Articles
Share
About Author