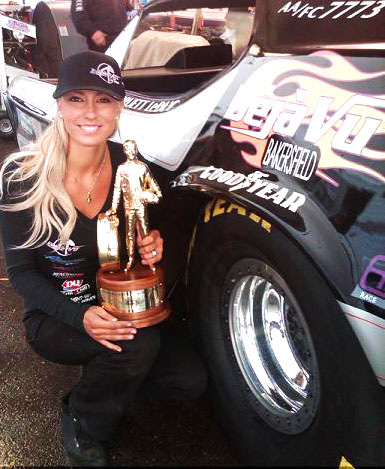 CHARLOTTE (April 15) — It was one of those bizarre things that happen in drag racing once in a blue moon.
Defending zMax Dragway Pro Mod winner Leah Pruett lost a chance to defend her title when her R2B2 Racing team couldn't repair her ProCare Rx turbo-charged Ford Mustang in time for the final round. So, instead of racing Mike Castellana for the trophy, she could only watch from her assigned lane.
"I was there, I was in my lane, I just didn't have a racecar," Pruett said. "All I could do was watch Castellana drive down the track and take the win light. We should have been out there but we weren't.
"It was a pretty complicated weekend all the way around with the car and the mechanical issues we had. And with the pro classes running four-wide the time between rounds for Pro Mod was really constricted. I sheared the converter off in the semifinals and we just didn't have time to repair it in the 30 minutes we had to turn the car around for the finals."
Ironically, Pruett hurt her car racing in the semifinals against her crew chief, Brad Brand, who was filling in for team owner Roger Burgess this weekend. Both her car and Brand's were struggling to find traction in their tilt and she had to get on and off the gas to try to get it to hook back up. In the process, the incredible torque ripped off the converter between the engine and the transmission.
"It shocked it so hard it just sheared it right off," Pruett said. "That was the second time it happened this weekend. It could have been a good race with Castellana but it never happened."
Although the ending was a bit odd, it was a great weekend for Pruett. She beat Steve Matusek, Don Walsh and Brand to reach the final round for the third time in her brief six-race career. She also improved her race day record to an astonishing 16-4.
"There are lots of positives," she said. "We went to the semis in Gainesville and the finals here so we're off to a great start. We wanted the win today, for sure, but we did the next best thing instead. We'll just fix everything and get ready for Houston."
The Pro Mod Drag Racing Series presented by ProCare Rx takes a week off before the 25th annual O'Reilly Auto Parts NHRA Spring Nationals, which take place April 27-29 in the Houston suburb of Baytown, Texas.
Related Articles
Share
About Author