Courtesy of FreeP.com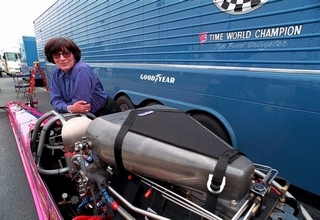 At 70, Shirley Muldowney has lost none of the fighting qualities that helped her cross the gender line in top-level drag racing.
Muldowney, who began competing seriously in the mid- to late-60s, talked about her experiences as a female racer at the Detroit Sports Broadcasters Association luncheon Tuesday at the Detroit Science Center (DSC).
Muldowney, who lives near Milan Dragway, was among a group of racing greats who will be guests at tonight's 22nd annual Motorsports Hall of Fame of America induction ceremony at the Fillmore Theater in Detroit.
"I was a victim of being ahead of my time," said Muldowney, who was inducted in 1990 along with motorsports legends such as Mario Andretti, Jim Clark, Mark Donohue, Gar Wood and William France Sr. "Someone had to open the doors (for women)."
Muldowney crashed through the doors, winning NHRA Top Fuel championships in 1977, 1980 and 1982, and becoming the subject of "Heart Like a Wheel," a 1983 movie about her career and challenges.
Muldowney never flinched in her battle to be accepted.
"I was the only girl, and I had to beat the boys," said Muldowney, who won 18 career NHRA events and retired at 63. "They hated me. There I was when they pulled through the gates at the racetrack, and I wasn't going away."
Muldowney, who at one time had legendary Connie Kalitta as her crew chief and engine builder, would jump into a dragster right now if she had sponsorship, she said.
"Driving cars was natural to me," Muldowney said. "I'd like to go back and settle a few scores. I like a good fight. It never ends."
Muldowney wants a new drag strip built somewhere near downtown Detroit and more money invested in the sport.
"NASCAR, bless their hearts, have picked our pockets," she said. "But we still have the best form of motorsports. You can visit and talk to the drivers in the garage, and you can sit in the stands and watch the action from 8 until 8. It doesn't get better than that."
Muldowney will be on hand tonight as fellow drag racer Dale Armstrong, late NASCAR champion Alan Kulwicki, AMA Supercross champion Jeremy McGrath, veteran sportscaster Ken Squire, former Trans-Am winner Jerry Titus, USAC sprint and midget icon Rich Vogler and late stunt driver and Indy car star Joie Chitwood are inducted into the the Hall of Fame.
Joining Muldowney at Tuesday's luncheon were current Hall members Mel Kenyon (midgets), Tom D'Eath (powerboats), Bob Bondurant (road racing/sports cars), Danny Ongais (Indy cars) and Elliott Forbes-Robinson (road racing/sports cars).
Former Indianapolis Motor Speedway executive and newly appointed Daytona International Speedway president Joie Chitwood III also attended the lunch, as did Jennifer Revson, sister of the late F1/Can-Am and Indy 500 driver Peter Revson, who was killed at 35 during practice for the 1974 South African Grand Prix at Kyalami.
Read more: Racer Shirley Muldowney hasn't slowed down at 70 | freep.com | Detroit Free Press
Related Articles
Share
About Author