The Adventures of Black Betty and Lindsey, Volume One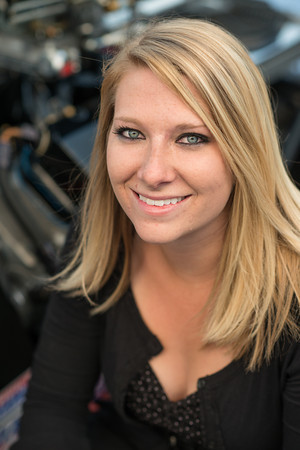 Hello motorsports fans!! I am so excited to be writing for FemaleRacingNews, and I feel so honored to be a part of such a powerful group of females! My name is Lindsey Cramsey and I am the driver of a 2001 Mullis Super Comp dragster in the National Hot Rod Association (NHRA). My dad began drag racing before I was born, but I really got the need for speed after receiving a souped up Power Wheels Barbie Jeep for my third birthday. As my eighth birthday approached, I begged for a Jr. Dragster and began racing in July of 1998. After the first pass, I completely fell in love with the sport, and I haven't missed one race for the last 15 years. After receiving a Bachelor's degree in Marketing, I set out to with the goal of purchasing my own Super Comp dragster. In January of 2012, that dream became a reality when I purchased a dragster with a 555 cubic inch motor. My rookie year in Super Comp consisted of three final rounds, including a runner up finish at the NHRA Lucas Oil Drag Racing Series event at Bandimere Speedway, and a win in the National Dragster Challenge. With the goal of becoming a Divisional and National Champion, I will be hitting the road and traveling to as many events on the NHRA circuit as my schedule will allow. My budget for shoe shopping has been decimated, but the thought of going to over 30 events this season has me extremely excited. I'll be hitting 8 divisional events, 6 nationals, and running two classes at my home track, Bandimere Speedway. Most recently, I have added a few partners to the team. Brown & Miller Racing Solutions and Lucas Oil Racing Products have partnered with Miss Lindsey Motorsports for the 2013 season. I am SO excited to be a part of both of their teams, and feel honored to be chosen as a representative by such great companies!
Since late October when the Colorado drag racing season ended, I have been working really hard to get the car ready for a new season, as well as get an enclosed trailer I purchased ready for racing. I also attended a couple of really neat events with the race car. I am not only glad that the "off-season" is over because that means it's time for racing, but also because I am tired! Getting everything done was quite a job.
In November, I attended the Rocky Mountain Auto Show put on by Greybeard Promotions. It's one of the biggest car shows in the Denver area, and is really neat as it is held in downtown Denver at our convention center. I had the opportunity to go on a local news channel to talk about the show and talk a little about myself and the dragster. There were a ton of really neat cars at the show and I got to talk to a ton of amazing people. I could definitely talk about drag racing all day! For the news channel footage, head to http://kdvr.com/2012/11/20/the-women-of-the-rocky-mountain-auto-show/.
My car, Black Betty, in front of the news station!
After the auto show, I started work on the car and began preparing for the upcoming season. I pulled both the transmission and converter and took them to my local trannsmission guy, Jack Ficco Transmissions, and he got them freshened and working great. I also put on a new Biondo steering wheel that I received as a birthday present; I am not going to lie, it looks great!
After getting everything back together, I had the opportunity to be a speaker at a local trade school called Bollman Tech and  was part of their first annual "Girls Day In" event. Bollman Tech is focused on  giving high school aged kids the chance to "learn by doing", and offer several different programs ranging from auto mechanics to graphic design. Their "Girl's Day In" event was designed to show high school girls from the Denver area what programs are offered as well as show them that they can do whatever they want, even if it is not commonly known as a female career choice. I was part of a five woman panel that spoke to over 25 girls about what a day in the life of our career was like, difficulties we face, and gave advice. They allowed me to bring my race car, and stay in the auto shop while the current female students taught the new potential students a few tips and tricks of jump starting a car and changing fluids. I was able to talk to them about my race car, how drag racing works, and show the safety equipment I am required to wear. They really loved when I started the car and revved her up! I had a great time talking to the girls and can't wait to go back next year!
A few of the girls and I at Bollman Tech
One of the most exciting events during the off season was the purchase of an enclosed car hauler! My boyfriend Michael and I met 6 years ago while racing and finally decided to begin traveling together. Our trailer is 50ft long and can haul my dragster and his 1973 Formula Firebird. We worked hard and got the new trailer loaded and got both of our cars done by the Phoenix Divisional event in Arizona. Being accustomed to winter Colorado temperatures, we really enjoyed that Arizona sun! It felt great to be racing and back in business! The weekend turned out great as I had a decent performance and made it to the 4th round in Super Comp and Michael won the entire race in stock eliminator! We were able to leave our truck and trailer in Las Vegas and are headed back to sin city for the divisional and national at the end of the month.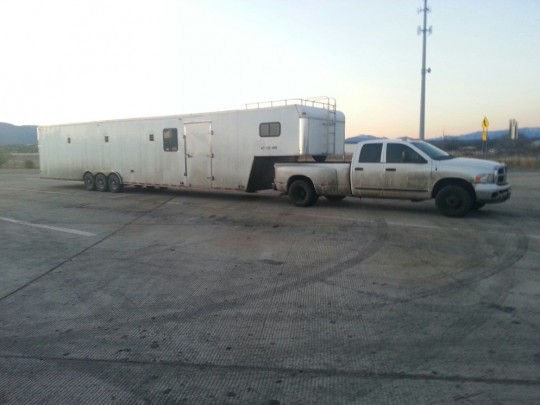 Our new trailer; dirty but getting the job done!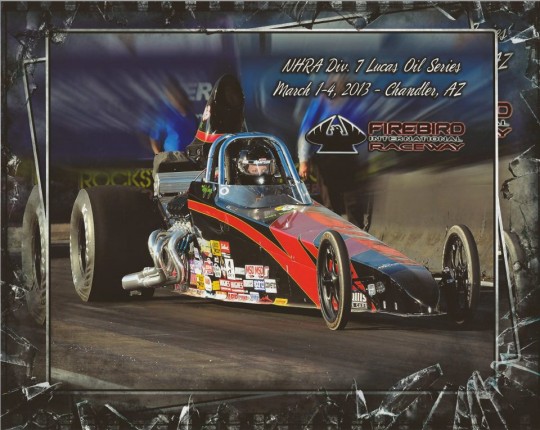 A really neat picture of Black Betty and I racing at the divisional event
And now, the Miss Lindsey Motorsports SHOE OF THE MONTH! Each month I want to share a pair of shoes right out of my own collection. I don't have a favorite shoe, every pair I own is near and dear to my heart, but these shoes are just lovely. I purchased them to wear to the 2013 Bandimere Awards Banquet. So classy!
View my Pinterest page for more shoes! Pinterest.com/MissLindseyC
Thank you so much for reading, and please feel free to contact me at LindseyCramsey@gmail.com or via my Facebook at Facebook.com/MissLindseyCramsey. I look forward to hearing from you and will be updating soon!
Related Articles
Share
About Author