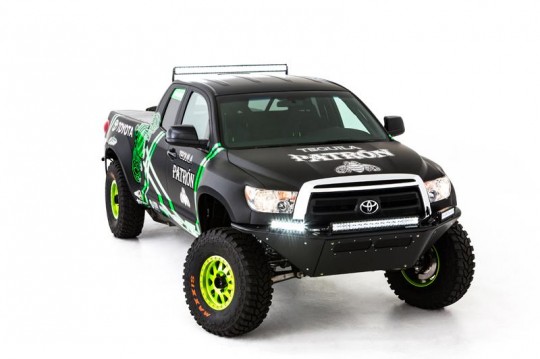 Delray Beach, Florida (October 20, 2012)— A project/build almost six months in the making is slowly coming to the finish line as Alexis DeJoria, driver of the Kalitta Motorsports Tequila Patron Toyota Camry Funny Car, along with NHRA's Antron Brown and NASCAR's Clint Bowyer and Kyle Busch, have finished their "Dream Builds" and have put it in the hands of their fans to decide the winner of the Toyota Racing Dream Build Competition.
Over the summer, Toyota Racing selected four of their drivers to compete in their Dream Build Challenge, a build-off competition where the winner receives $50,000 for the charity of their choice. Each driver was given their choice of a Toyota vehicle and could modify that vehicle however they so pleased, keeping within a pre-determined budget.  Alexis "La Patrona" DeJoria's submission for the project is her 'Tequila Patron Off-Road Pre Runner Tundra.' "When I heard about this competition, the first thing I thought of was an off-road truck. I wanted to do something different, but something that still represented my passion for racing," said DeJoria, an NHRA fan-favorite.
The build portion of the project is only half the challenge, as now it is up to the fans to decide which one of the Toyota drivers constructed their favorite vehicle, utilizing social media and the Toyota Racing Dream Build App. "I think it's really cool they let the fans vote for the winner. I have put my heart in to this truck, and I know my fans will be able to see that. I can't wait for them to see it!" she said, only minutes after the completed truck was unveiled to her at Racer Engineering in San Jacinta, Calif., her selected build shop for the project. "It really does look just like I wanted it to. Everyone involved did an amazing job and I think we definitely have a good chance of winning this competition and being able to give Safety Harbor Kids [her selected charity] $50,000."
Voting for the Toyota Racing Dream Build begins today, October 20thand runs until October 29th.  In addition to the voting, Toyota is also giving fans a chance to win an exclusive race experience at either a NHRA or NASCAR Race. To vote and register for the sweepstakes, please visit www.toyotaracingdreambuild.com. The winner will be announced at the 2012 SEMA Show on October 30th.
About Alexis DeJoria
Alexis DeJoria, daughter of the famed John Paul DeJoria, co-founder of John Paul Mitchell Systems and proud owner of Tequila Patron, is a professional NHRA race car driver, competing in the Nitro Funny Car class on the Kalitta Motorsports team. She is their second Nitro Funny Car driver and fourth member of the team. Alexis drives a Tequila Patron-sponsored 2012 Toyota Camry.
Alexis had a successful career in the Top Alcohol Funny Car category where she co-owned and operated her team, and was one of the few females ever to do so. She left the TAFC category holding the title of Top Female Top Alcohol Funny Car Racer and 2011 NHRA Northwest Nationals TAFC event champion. Alexis made racing history when she competed in the first ever 'woman vs. woman' race in her class in 2010, and she is the 2nd woman ever to win a TAFC race. She is currently the female world record holder for the fastest and quickest TAFC speeds. Alexis is also well-known for her infamous 2009 Englishtown, NJ crash.
Alexis, who had all the opportunity in the world to pursue any type of career, felt strongly about following her passion. She is proud to encourage and inspire young women to go after their dreams. Alexis' need for adrenaline drove her to pursue the unlikely profession of auto-racing. The determination to 'blaze her own trail' continues to drive her and push her to higher levels in the dangerous, male dominated sport of drag racing.
Related Articles
Share
About Author