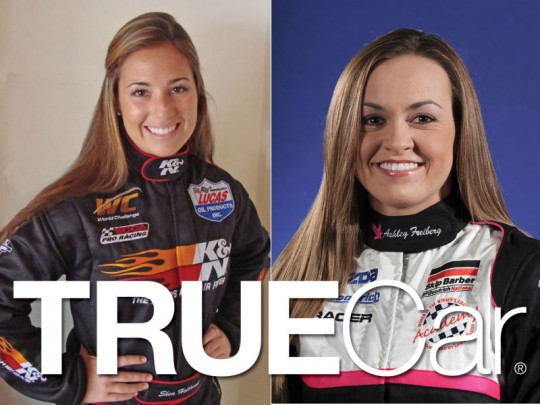 TrueCar Becomes Driving Force in Auto Racing with "Women Empowered" Initiative

Company makes multi-year commitment to support women in auto racing through primary sponsorship of top professionals and rising stars 
TrueCar, Inc., creators of the intelligent automotive marketplace that benefits both buyers and sellers has announced an extensive, multi-year commitment to support top female race car drivers in premier racing series, along with young rising stars across several developmental racing series.
The TrueCar Racing "Women Empowered" initiative is an extension of the company's efforts to help women enjoy the best possible car buying experience.   With over 80% of car buying decisions influenced by women – and 50% of all car purchases made by women – this impactful audience is a significant part of the automotive retail landscape.
"TrueCar is built upon the foundation of empowering individuals with the tools and resources they need to become expert car buyers," said TrueCar Founder and CEO Scott Painter.  "The "Women Empowered" initiative is an exciting extension of that philosophy – empowering women in racing by giving talented female drivers everything they need to dominate their sport."
The inaugural members to the 2012 TrueCar Racing Team include:
Shea Holbrook – Pirelli World Challenge Series (www.shearacing.com)
Ashley Freiberg – Star Mazda Series (www.ashleyracing.com)
Shannon McIntosh – USF2000 Series (www.shannonmcintosh.com)
Verena Mei – Rally America (www.stargirlracing.com)
Emilee Tominovich – Pro SCCA Playboy MX-5 Cup Series
The company is also in the process of finalizing its sponsorship of a driver to compete in the prestigious IndyCar Series, as well as a Baja 1000 team for 2012, which will be made up entirely of women drivers vying for a class championship. Additionally, TrueCar will launch a new young driver development program that will introduce thousands of young women to auto racing at the karting level, and then providing support to top championship prospects as they progress through their racing careers from karting all the way up to premier racing series like IndyCar, the American Le Mans Series, Grand Am, and even Global RallyCross and the X-Games.
The strength of the program is enhanced by the involvement of Michael Zimicki – widely regarded as one of the top driving coaches in the industry.  Zimicki, who has coached Danica Patrick, Pippa Mann, Ryan Hunter-Reay, and Graham Rahal will be a key consultant on the TrueCar initiative.  He will be joined in the program by Marc Miller, a top driver in his own right and renowned driving coach, along with rally expert Tim O'Neil, and other top coaches and advisors throughout the season.
"Despite their considerable talents, women have yet to achieve the sponsorship opportunities, recognition, and championship successes that we believe is their due in the only sport where men and women compete head-to-head," said Charles Kim, Director of Motorsports for TrueCar.   "This exciting initiative will change that – placing top women drivers on the world's stage, and providing professional guidance, primary sponsorship support, and exciting new marketing and media opportunities to these talented drivers working their way up to the highest levels of racing.  Our mission is simple:  to empower these talented drivers and help them become future racing champions."
Members of the TrueCar Racing Team are equally excited about the initiative.   Said Shannon McIntosh, "I'm truly honored to be a part of the TrueCar Racing initiative. Coming from a very modest background with many years of struggle, I'm humbled at this opportunity.  Thank you to Scott Painter, Charles Kim, and the entire TrueCar family for believing in me and giving me this platform to empower others to live by NinTai."  Michael Zimicki adds, "The program that TrueCar has announced today is the most comprehensive support of American racing ever done, be it open-wheel, sports car, rally, or off-road. And the real kicker is that it is in support of women. This is a revolution."
Related Articles
Share
About Author