Audi's win over Peugeot in last year's 24 Hours of LeMans wasn't just another brick in Audi's wall of dominance in endurance racing, it was also the first time a LeMans-winning team was headed by a woman.

Meet the first woman engineer to win 24 Hours of Le Mans and new FIA Women in Motorsport Commission Ambassador Leena Gade. She talks openly about her path to being number one race engineer at Audi Sport Team Joest and how she nearly quit the sport just before one of her biggest triumphs.
How did you get into motor sport? Directly out of university, I went to work for Jaguar Cars for six and half years, as I didn't have any relevant motor sport experience and couldn't just walk into a team.
In 2003, I started to help out a small team from Leicestershire in the UK called AHS Mechanical, preparing their 14 cars in the Formula Vee series as a mechanic and then in 2004 I became a data engineer for Soper Sport, which was running three Formula BMW cars in the UK series. Both of these jobs were done for free on my weekends and gave me a chance to make contacts I could use to negotiate my way into more race series during the following years.
I also worked in the LMS series with a team running an Aston Martin GT1 and then a team running an LMP1 Lola/ AER, plus A1GP with Team Japan. By the middle of 2006, I had made enough contacts that I felt I could leave my full-time job and then work in multiple race series as a data engineer.
When you started were there any difficulties associated with being a woman on generally all-male crews? Do any issues persist? People often ask me if it is hard being a female engineer on a race team where almost every member is a guy. The answer is always the same – it's as hard as you want it to be.
Actually, that is true in any form of motor sport whether you are male or female. Motor sport is a lifestyle that doesn't suit everyone, but once you get sucked into it, it's very hard to step away.
What's been the toughest challenge of your career to date? My most challenging win was in Le Mans in 2011, when eight hours into the race, my Audi R18 [driven by Benoît Tréluyer, André Lotterer and Marcel Fässler], was the only one left of the three that had started. One thing stood out at that race, something that sets us at Audi Sport apart from many other works teams, is that when one car goes out, the entire crew will back up the remaining cars and this is exactly what happened. It could easily have ended up with everyone throwing in their opinion but it didn't – I was allowed to make the decisions and take advice but to use my judgement to make the calls we needed.
It was a huge step for me because in that same year, at Sebring in March and Spa in May, I had two disastrous races, which at one point really made me reconsider my career choice. In fact, I had decided that post-Le Mans, I would probably step back from being a race engineer and do something else on the team.
That was a radical change to consider. So what did you do? Fortunately, there was still a month to Le Mans and that gave me some time to work out what I wanted to do to resolve the serious issues we had.
My mother has always said I take on too much but that one of my strengths is that somehow, with a little organisation, I find a way to make it all work. I was the same at school – why do three A Levels when you can do four, hold down a part time job and learn the clarinet and guitar? Why only use the textbooks that the school give you to research a topic when the local library has five times more research material so that it takes three times as long to finish a project?
However, looking back, that gave me a skill that's now one of my strongest qualities. In this job, time is everything, so you have to get organised and prioritise what needs to be sorted first. I also realised that I didn't have all the answers to every problem and that meant admitting if I didn't know something, I should go and find the person who could help me. Knowing this, I found the strengths and qualities in my team to make sure every one of my mechanics and engineers was given the confidence they needed to do their job.
Did that give the crew the major lift you felt was needed? With my number one mechanic Ronny, we discussed radio protocol, we practised more parts changes than the other two crews and we checked and rechecked our work, even when it meant finishing later than the other cars. Possibly the biggest step, though, was trusting each other. Four weeks of long days, a lot of soul searching and totally readdressing our organisation brought us to Le Mans race week.
And in the end you did win but by a really close margin – just 13.8 seconds after 24 hours of racing. What do you remember of that moment? My recollection is of pure relief that I made it through with the odd mistake but having believed it was possible. I turned around a team that a few months before looked incapable of making it through the first part of the weekend, let alone the race itself.
Looking back, the worst year of my race engineering career set me up for 2012 and 2013 and helped me understand what I have to do to turn around a bad race. If this job was easy, everyone would do it, but it isn't. Not many guys want it and even fewer girls do, but I hope that when I lead my team at any race, I show both that anyone, if they put their mind to it, can achieve so much in motor sport. It's hard but worth every bit of the sweat and tears.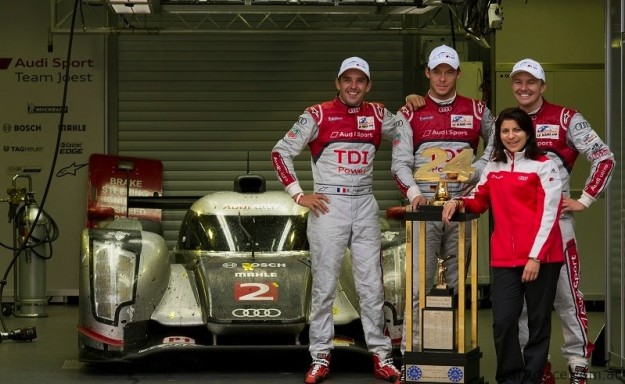 FAST FACTS
Name: Leena Gade
Place of Birth: Perivale, Middlesex, UK
Qualification: M. Eng Aerospace Engineering with Materials Science
First motor sport job: Mechanic with AHS Mechanical in the Formula Vee series.
Current position: Race Engineer Car 1, Audi Sport Team Joest
Family: Leena's sister Teena is the Lead Engineer for the Mini World Rally Championship Team
Related Articles
Share
About Author