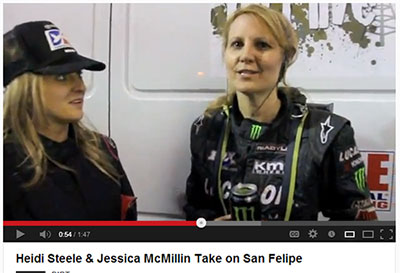 Heidi Steel and Jessica McMillin just made history! For the first time in Score history two female drivers took on the Score San Felipe 250!!
"We were running 16 out of about 36 Trophy Trucks.  Unfortunately, I broke a serpentine belt which cost us about an hour to repair and several trucks got by us.  I also got stuck in a sand wash not realizing how heavy the truck was compared to my Class 6 truck I had been racing. "
Ultimately, the pair finished 22nd out of 36 trophy trucks.  Not bad for their first race in this truck.
"This is a bit of a transition year for me as it is far different racing a Trophy Truck.  My top speed was 118 mph, in my last truck it wouldn't go more than about 95 mph. " said Heidi
Here's a post race video from DirtNewz.com

Related Articles
Share
About Author