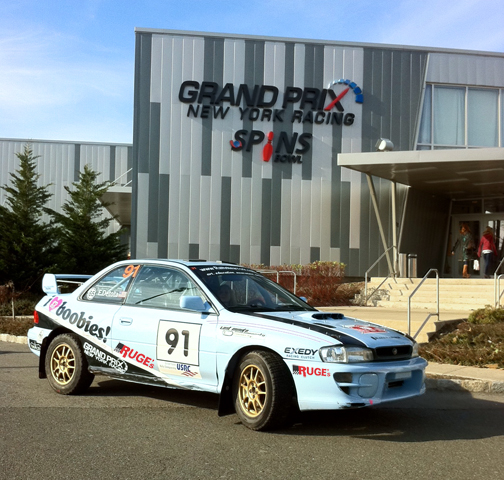 Erika Detota and her Ruge's Subaru Rally car set to guest host "Support-apalooza" Grand Prix New York's fundraiser for Support Connection

Grand Prix NY is excited to have the Ruge's Rally car and Championship winning driver, Erika Detota to help raise money for Support Connection, a nonpro?t organization that provides vital services to people with breast and ovarian cancers.
Mount Kisco, NY, April 11th, 2013: Support Connection, a Yorktown Heights-based notfor-profit organization that provides free, confidential services to people affected by breast and ovarian cancer, will be the beneficiary of a rocking Spring fundraiser hosted by Grand Prix New York in Mount Kisco on April 12, 2013, from 7:00 pm until 11:00pm.
Admission is $20. Other fundraising efforts will include a 50/50 and raffle prizes."Having Erika bring her rally car has become a tradition for this annual event. She is a cancer prevention ambassador for Keep A Breast of the "I Love Boobies" campaign, which appears on her race car. It is great to join forces with the community and we have always enjoyed including a woman rally driver at this event." – says Nat Mundy, Sales and Marketing VP at GPNY.

According to the American Cancer Society, breast cancer is the most common cancer among American women, aside from skin cancer. About 1 in 8 women will develop invasive breast cancer during their lifetime. Ovarian cancer is the ninth most common cancer among women, excluding non-melanoma skin cancers. If ovarian cancer is found and treated before spreading outside the ovary, the 5-year survival rate is about 90%. However, only 20% of all ovarian cancers are found at this early stage. This statistic is particularly personal to Erika, who's grandmother was diagnosed with stage 3C ovarian cancer late last year. "Everyone knows someone with breast or ovarian cancer, it is how we distribute information to help detect and prevent these increasingly common diseases is how we can honor those who are fighting to recover.
Please join us to celebrate and raise money for a great cause" says Detota.
Grand Prix New York is located at 333 North Bedford Road in Mount Kisco, New York. For more information about GPNY, please call 914-358-3600 or visit www.gpny.com.About Support Connection: Support Connection, Inc. is a 501 (C) (3) not-for-profit organization that provides free, confidential support services and programs to people affected by breast and ovarian cancer. To learn more, visit www.supportconnection.org or call (914) 962-6402.
About Grand Prix New York:
Grand Prix New York Racing (GPNY) is the only large indoor racing, social entertainment, and corporate event venue in the New York City-metro area. GPNY is actively involved in community outreach and fundraising efforts. Since its inception in 2008, GPNY has raised hundreds of thousands of dollars for local charities by hosting high-profile fundraising events. For more information about GPNY, visit their website at www.gpny.com.
Erika Detota is supported by Ruge's Subaru of Rhinebeck, NY, Tony's Mufflers, Keep a Breast Foundation, Exedy Racing Clutch, Hawk Performance and Rally Armor.
Ruge's Subaru Facebook page http://www.facebook.com/RugesSubaru
Erika Detota Facebook page https://www.facebook.com/RallyErika
For more information about Erika Detota go to www.RallyErika.com
Related Articles
Share
About Author