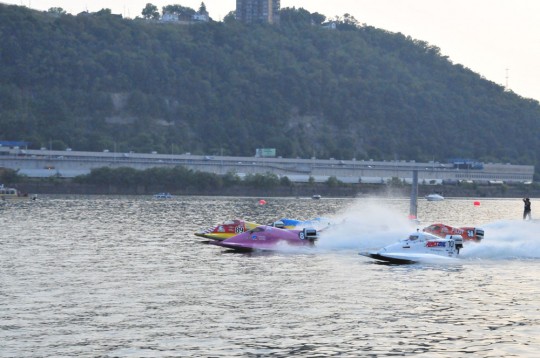 It's been a long and busy season already and were just getting started.  After returning from the 24-hour of Rouen in France it was time for me to buckle down and focus on racing in the USA.  I've been very lucky this season with the support of Peter's and May, Lucas Oil and Digatron USA.
We stated our North American season at one of the most important venues in the USA, Pittsburgh, PA Three Rivers Regatta.  This year Pittsburgh hosted the 2012 Formula 3 North American Championships with over 500,000 spectators turned out to enjoy the adrenaline pumping formula powerboat racing action on the Allegheny River in front of Heinz Field.  During our final test session before heading to Pittsburgh, PA the team had major mechanical issues with our primary motor.  After 7 hours of diagnostic work the team elected to replace it with a back-up engine.  This year the series changed it's racing format, removing qualifying. The program included time trials and final 20-lap heat race. It was essential that the team do well during time trails to gain a good position on the start dock.
The course was set as a 4 pin, oval, 32 second course.  It was situated under a bridge, racing under it caused a wind change and a tunneling effect of air under the boats, numerous boat become airborne, luckily there were no accidents this year. Pittsburgh always attracts the best teams in Formula 3.  They are captivated by the challenging water conditions and the thrill of racing in a large metropolitan area.  The team was able to clench the third fasted time allowing us to start third on the gird.  This was a great accomplishment competing against teams that had already raced this season and had there boats fully dialed in.  We were very please the back-up motor was doing well.  Pittsburgh is a rough race and we needed to fight hard to get a podium finish.
The 20-lap final was intense competing not only against the competition but the Alleghany current and large pieces of debri in the water. When the white flag dropped we were first off the dock not having the inside line was detrimental to our lead.  After the first turn we were in second place and fighting to defend our second place position while trying to minimize the distance between us and the leader.  After 20 laps, when the checkered flag completed the race, we were very pleased to get the runner-up position at the 2012 Formula 3 North American Championships.
It will be a very long and hard season.  Formula 3 racing is one of the most competitive classes in Formula or Tunnel boat racing in the USA. The teams next race will be our Regional Championships at Marietta's Riverfront Roar in Marietta, Ohio  We invite everyone to come enjoy the festival.  Marietta's riverfront shuts down for the powerboat races.
Related Articles
Share
About Author