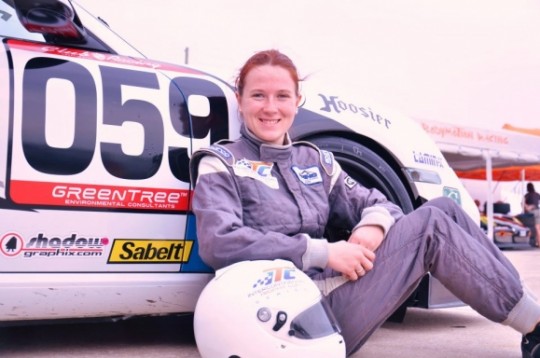 Listen to Savannah's Exclusive Interview from Sebring:
SAVANNAH RICKLI – Joining Series at New Jersey Motorsports Park in May
INDIANAPOLIS (Feb. 9, 2012) – Savannah Rickli (Littleton, Colo.) first got behind the wheel of a vehicle at age 3, running an ice race at a children's event. Only 18, she has experience in a number of different disciplines, including road racing and hill climbs. In 2010, she became the youngest driver in the 88-year history of the Pikes Peak International Hill Climb to finish the event.
With an ever-growing resume, Rickli hopes to enhance that document as she announces her racing plans for the 2012 season. Those plans include racing in the Intercontinental Trophy Cup Racing Series (ITC) presented by GreenTree. Rickli joined ITC officials, drivers and teams at the series' season-opening event last weekend at Sebring (Fla.) International Raceway, taking a tour of the paddock, asking questions and learning the series' rules and regulations as she prepares to get behind the wheel of a Porsche Cayman, maybe as soon as the second round of the season in May at New Jersey Motorsports Park in Millville, N.J. Rickli is partially funded for the New Jersey race, and is optimistic about securing full funding.
"There are a lot of appealing things in this series, so I jumped on the opportunity to come to Sebring and meet some of the teams," Rickli said. "It's an exciting time."
A motorsports enthusiast from almost the time she was born, Rickli joined the go-kart ranks in the SCCA's Formula Junior Program in 2005 at the age of 12 and won a national championship the following season. She moved to car racing in 2008, participating in the SCCA Solo Nationals. Following a childhood dream, Savannah entered the Pikes Peak Hill Climb in 2010, at age 16. When she took the checkered flag in a Mini Cooper, she became the youngest driver ever to finish the grueling up-hill race, and was awarded the Rookie of the Year. She returned to the 12.42-mile, 156-turn course last season, improving her time by more than 30 seconds.
Rickli has also competed in races in the National Auto Sport Association (NASA), which sanctions several races on the ITC circuit. ITC's races are also sanctioned during Porsche Club of America (PCA) event weekends.
"Having the opportunity to run at places like Mid-Ohio Sports Car Course, Road America and Road Atlanta, that is very appealing to me as a driver," Rickli said. "ITC is a good ladder for me to accomplish my goals of moving through the professional sports car racing ranks. Everyone has been very welcoming and hospitable."
Rickli is also engineering savvy, and is currently building a 1991 Audi Coupe Quattro to compete in at Pikes Peak this July with a team she co-established with another driver – Fingers Crossed Racing. She graduated a semester early from high school in December 2010, and is working toward a marketing degree from the Metropolitan State College of Denver. For more information on Rickli, visit www.savannahrickli.com or follow her on Twitter, @savannahracing.
The next event on the 2012 ITC schedule is May 9-11 at New Jersey Motorsports Park.
About Intercontinental Trophy Cup Racing Series
The Intercontinental Trophy Cup Racing Series (ITC) presented by GreenTree is a defined path for new and upcoming talent coming from a variety of disciplines, including karting and club-racing. The series, which races exclusively with Porsche Caymans, began in April 2011 and is the first nationally-touring semi-professional series sanctioned by the National Auto Sport Association (NASA). The ITC provides a structure to assist the enhancement of drivers and teams not only on the track but also off, fostering business partnerships and developing marketing strategies. For more information, visit the series website,www.trophycupracing.com, and follow the series on Twitter, @itcseries.
Related Articles
Share
About Author