Courtesy of RedBull
by Ryan Cooley/MCG, Sep 12, 2011
Heading into the 2011 WMX series finale at Pala Raceway with a comfortable 22-point lead in the championship point standings, Red Bull's Ashley Fiolek needed nothing more than a safe and conservative ride to lock down her third Women's Motocross Championship in four years, and she did exactly that with a solid third-place overall performance in front of Southern California's motocross faithful.
As the sun shone on the Pala circuit, beat and battered from the two men's motos earlier in the day, the much-anticipated WMX moto one gates finally dropped and a battle between Fiolek and championship rival Jessica Patterson immediately ensued.
With everything to lose and a championship to gain, Fiolek kept her excitement and determination in check as she let the hard-charging Patterson go, and then threw down seven smooth and consistent laps en route to a smart second-place finish.
Ashley's Red Bull teammate Tarah Gieger crossed the stripe in the third spot just a few seconds back.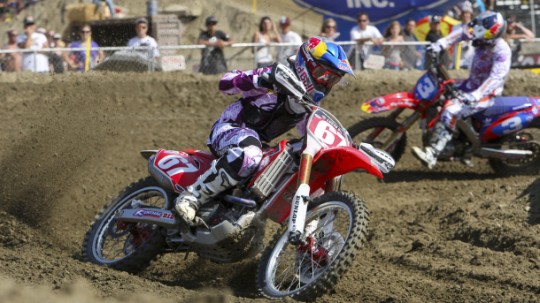 Just one more moto stood between Fiolek and her third WMX championship since entering the professional ranks back in 2008, and with a plan in place, the always-smiling Floridian rolled to the line for the final moto of the day at the Pala National.
A good start and seven trouble-free laps was on order, and once again Ashley delivered as she strolled in for a conservative, yet championship worthy, third-place finish. Fiolek's 2-3 moto scores tallied for third overall on the day, earning more than enough points to seal up the title.
"I can't even describe how I'm feeling right now," Fiolek commented after the race. "After losing the title to Jessica last year, the only thing on my mind has been this moment, and I'm so thankful for everyone and everything that helped me get here. This is incredible; I'm so happy right now!"
With a series best second-place finish in moto two, Red Bull-backed TLD Honda's Gieger ended the day in second overall, finishing third in the championship point standings.
PALA OVERALL RESULTS
1. Jessica Patterson (1-1)
2. Tarah Gieger (3-2)
3. Ashley Fiolek (2-3)
4. Vicki Golden (4-4)
5. Stephanie Laier (6-5)
CHAMPIONSHIP POINT STANDINGS – 2011
1. Ashley Fiolek (363)
2. Jessica Patterson (349)
3. Tarah Gieger (310)
4. Jacqueline Strong (209)
5. Vicki Golden (207)
Follow Ashley and Red Bull on Twitter for more news and exclusive info.

Related Articles
Share
About Author